Former Department of Health finance chief Richard Douglas has been named as a non-executive director at NHS Improvement.
The regulator, which launched on Friday after combining Monitor and the NHS Trust Development Authority, has announced its full board.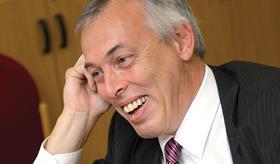 Mr Douglas takes his position after stepping down from his role as DH director general of finance last May.
He was also previously acting permanent secretary, and was regularly placed in the top 10 most powerful people in the NHS in the HSJ100.
Lord Carter and Lord Darzi had already been named as non-executive directors.
Joining them on the board are the following non-executive directors:
Bath University vice chancellor Professor Dame Glynis Breakwell;
former ambulance chief and Monitor non-executive director Sigurd Reinton;
former English National Ballet director and former TDA non-executive director Caroline Thomson;
former TDA non-executive Sarah Harkness, who has a background in corporate finance; and
Laura Carstensen, commissioner at the Equality and Human Rights Commission, Cooperative Bank non-executive director and former lawyer.
The board will be chaired by former Monitor and TDA chair Ed Smith.
Several of NHS Improvement's executive directors also sit on the board. These are:
chief executive Jim Mackey;
deputy chief executive/executive director of resources Bob Alexander;
deputy chief executive/executive director of regulation Stephen Hay;
executive director of nursing Ruth May; and
executive medical director Kathy McLean.
The first meeting of the new NHS Improvement board will be on 28 April.
Mr Smith said: "NHS Improvement gives us an opportunity to support providers to make real change for patients. I'm delighted to welcome those members who've joined our board, adding their expertise and knowledge to that we've brought over from the NHS Trust Development Authority and from Monitor.
"There are some former board members of both predecessor organisations who are stepping down, and I want to thank them for their service, particularly Baroness Hanham and Sir Peter Carr who have successfully steered both organisations. Their hard work has led to a better NHS and a better experience for patients."
Tim Heymann, Heather Lawrence and Iain Osborne stepped down as Monitor NEDs on 31 March, and Dame Christine Beasley and Crispin Simon stepped down as TDA NEDs on the same day.
Sir Peter Carr will step down as a TDA NED on 30 April. Keith Palmer stood down from the Monitor board on 31 January.