NHS Improvement chair says single national director roles likely, after merger of regional teams
Baroness Harding says the pilot in south region "not a brilliant model"
"Not necessarily" redundancies as a result of changes
The chair of NHS Improvement has said her organisation's coming together with NHS England was a "joint venture", not a merger.
In an interview with HSJ, Baroness Harding said the combined organisations would have single national executive positions but had not yet decided which roles would be shared.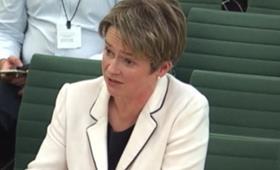 Plans to bring together the regional teams for NHS Improvement and NHS England were announced last week. Baroness Harding stressed the changes were not a traditional merger, saying: "If you can forgive my commercial language, I am thinking of it as a joint venture rather than a merger."
She said the move would cause "a lot of change for people but not necessarily redundancies". She added: "It's right to be honest and open with people in both organisations. We're very mindful that what we are kicking off is a significant change programme and people will be nervous about that. That's very human and very real."
The NHSI chair acknowledged there had been problems in the south region where NHSI and NHS England had attempted to merge their operations. A document sent to staff, seen by HSJ, indicated there were difficulties with support teams not being integrated, a lack of an aligned operating model and no shared culture.
Baroness Harding said the national bodies were "aiming to learn from it".
She said neither organisation would have primacy if disputes arose. Baroness Harding said: "This isn't about who is top dog at all. [Chief executives] Ian [Dalton] and Simon [Stevens] will be the first to say that. This is a genuine partnership. If we can't role model it at the centre, how on earth do we have the right to expect people to do it across the country?"
Referring to the joint regional directors for the South East and South West, she said: "In Anne Eden [at NHSI] and Jennifer Howells [at NHS England] you've got two individuals who are like the middle point of an hourglass. Above them you've got two completely different organisations and below them their teams are still separate.
"And you know what? We are quite successfully proving that that's not a brilliant model for a joint venture.
"Goodness knows how much pressure we're putting Jen and Anne under to make that work."
Asked if creating single regional teams was effectively ending the purchaser/provider split, Baroness Harding said: "It isn't, which is precisely why these jobs are so complicated. The jobs are complicated because we are asking those teams to hold that complexity, rather than asking every trust and clinical commissioning group to work that out for themselves.
"They will have to hold in their heads both sides of the commissioner/provider divide, they will be working to two chief executives.
"At the moment what happens is that the point at which [conflicts] get resolved is escalated up and up and up away from the local area.
"Having a regional team that holds both responsibilities you have got an escalation point."
She said the regional teams would be given more autonomy but would take more responsibility for performance problems.
Baroness Harding, who has been in post five months, said: "In [the] world we are moving to with single regional teams and much greater responsibility for those combined teams, how do you make sure you create a culture where those teams are on the pitch?
"If something goes wrong in the patch we should feel some accountability for that. That's about being an improvement agency rather than being a regulator, there is a sort of safety in feeling like a regulator, and that if something goes wrong it is not really your fault.
"That is not how I view my role in the NHS or how I would want the regional teams."
At a national level, she said functions like competition complaints and specialised commissioning would have to stay with NHSI and NHS England respectively, but there was "definitely" overlap between NHS England's Right Care programme and NHSI's Getting It Right First Time project.
A paper on merging central functions is expected to be presented to both boards in May.
The two organisations already have a joint finance committee featuring co-chairs from each.
Baroness Harding also said NHSI would make public its report on how the provider sector had coped with this winter.
She said: "I don't think anyone working in the NHS can feel content with the A&E performance through this winter, whether you're a porter, a consultant or someone sitting in NHS Improvement."
Managers who 'cross moral line' will be barred, warns NHS Improvement chair
1

2

Currently reading

Harding: 'Joint venture' with NHS England may not lead to redundancies