Jeremy Hunt says he is committed to legislation for new patient safety reforms
Mr Hunt said Number 10 knew legislating for safe space was a priority for him
Government consultation on safe space protection closed last week
Health secretary Jeremy Hunt is lobbying the prime minister for legislation on new reforms to the health service to be included in next year's Queen's speech.
Mr Hunt said he was committed to getting a legislative slot to bring in powers to underpin important patient safety reforms, including the creation of a new safe space protection for staff during investigations into mistakes in patient care.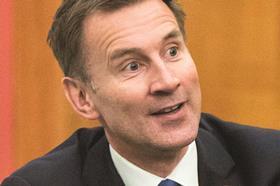 This would be a key part of the new Healthcare Safety Investigation Branch, which will be looking to examine NHS incidents for the system to learn from.
The government could also use a new health bill to reform professional regulators such as the General Medical Council and Nursing and Midwifery Council. David Cameron promised to reform regulators in 2013 following the Mid Staffordshire scandal.
In an interview with HSJ, Mr Hunt said he had committed to bring legislation forward for HSIB and safe space at an international patient safety summit in March this year.
"It is a government commitment to legislate but obviously we don't know until the Queen's speech whether we have been successful getting it in the next session," he said,
Asked whether he was seeking a legislative slot from Theresa May, Mr Hunt said: "Absolutely, Number 10 knows this is a big priority for me."
The government has been reluctant to bring forward new healthcare legislation since the major reforms to the NHS introduced by Andrew Lansley in 2012.
A consultation on the proposed safe space protection for staff closed on Friday. The proposals include granting limited protections to staff who speak openly about why an error might have happened.
The Department of Health's proposal to extend safe space to local NHS trusts has been criticised, and Mr Hunt said he recognised the concerns.
He said: "Everyone is agreed about the need for legislation to support the work of HSIB but HSIB is only going to do 30 investigations or so a year. We need to be able to have the same kind of investigations at a local level.
"The issue families have and [HSIB chief investigator Keith Conradi] had is that we don't want to create a structure where people can use safe space investigations to hide the truth from relatives and families.
"We need to find a way whereby people who do safe space investigations can do them properly. That is the benefit of a consultation because you surface those issues. I am confident we will be able to come to a place whereby the safe space investigations that happen at a local level, not done by HSIB, are done to HSIB standards."
Regulators will not merge before 2020, says Hunt
1

2

3

Currently reading

Health secretary 'committed' to new patient safety laws