A year ago many thought the health secretary was on his way out. But having won the junior doctors' contract dispute he is now the longest serving health secretary. Meanwhile, the changing political, financial and regulatory landscape has shaken up the rest of the NHS leadership ranks.
The top two places of 2016's HSJ100 are occupied by the same men as a year ago, but the judges argued long and hard about whether the order should be reversed.
Such a debate would have been unthinkable a year ago, when NHS England chief executive Simon Stevens' power was reflected in the unambiguous endorsement of the Five Year Forward View by the new government and a close relationship with the PM and, especially, chancellor.
Mr Stevens was described on BBC Radio 4's Week in Westminster as the "fourth most powerful man in the country" after David Cameron, George Osborne and Bank of England governor Mark Carney.
Health secretary Jeremy Hunt on the other hand was wading at some speed into a mire of his own making – battling junior doctors on seven day working. Few, including HSJ, expected him to be in post come this autumn.
What a difference a year makes.
Mr Hunt has become the longest serving health secretary, beating Alan Milburn's record, and could now feasibly go on to surpass Lord Fowler as Britain's longest serving senior health minister. He has received the backing of the new prime minister, after skilfully playing the politics of Brexit and, most significantly of all, emerged triumphant in the junior doctors' contract dispute.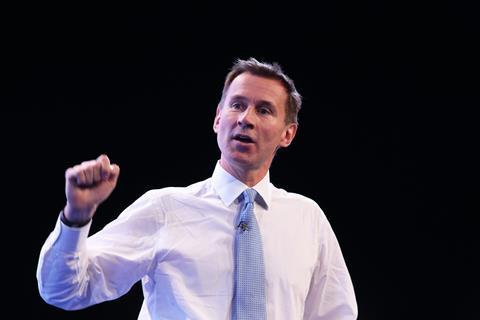 Many will rue the lost opportunities which have slipped by during the last 12 months and worry about the longer term implications for medical morale and retention.
However, the manner of Mr Hunt's victory has demonstrated the inability of the British Medical Association to block government plans if it adopts a steadfast approach to negotiations. Many politicians, policy makers and healthcare leaders – not only those on the right – will welcome that, believing the medics' union has been too powerful in the past (BMA chair Mark Porter slides to number 28, from 19 last year and 15 in 2014).
Hunt has proved himself to be the equal of Stevens as a politician
Mr Hunt has also proved himself to be the equal of Mr Stevens as a politician – which is high praise. Rather than worrying about the implications for his own status, he has let the NHS England chief executive take the lead on NHS finances, positioning himself as the champion of care quality and patient safety.
This does not entirely quarantine him from the financial woes of the service, but Mr Stevens (along with NHS Improvement chief executive Jim Mackey – number 4) does make a very effective firewall.
What now for Simon Stevens?
So why is Mr Stevens still number 1? First, because the forward view and all that flows from it is still seen as the best chance of reaching a sustainable future for the service, and second because Mr Stevens is still widely considered the best person for the job – something Cabinet secretary Sir Jeremy Heywood (number 3) will remind the PM and her influential policy adviser Nick Timothy (the highest new entry at number 5) if and when they grow more nervous.
As HSJ reflected in September, the situation is much tougher for the NHS than when the forward view was originally conceived in the summer of 2014. The money is much tighter and, as a result, central intervention much greater. Timetables for delivery have both contracted, as evidence of success is badly needed, and expanded, as resources – especially capital – have dried up.
Might the NHS England chief want to take his considerable talents elsewhere?
There is no sign of any drop in the energy and intellectual firepower that Mr Stevens brings to the job. However, both will be sorely tested by this autumn's ridiculously ambitious reform and planning timetable. If, come January, the heavy hand of the Treasury is gripping ever tighter and the opportunity for reform grows ever slimmer, might the NHS England chief want to take his considerable talents elsewhere?
One of the corollaries of the shifting of the centre's tectonic plates is that new Department of Health permanent secretary Chris Wormald becomes the second highest new entry at number 6. Departmental insiders say he will not be content with the low profile adopted by his predecessor Una O'Brien. The same insiders also say the DH is now truly a "Whitehall" department, as opposed to a de facto NHS HQ – and will begin to operate appropriately.
Mr Hunt has already begun recalibrating its interaction with the service along the lines taken by the Department for Education (where Mr Wormald was permanent secretary from 2012) and Communities and Local Government (whose post of director-general of local government was filled by Mr Wormald for three years until 2009).
The rise of NHS Improvement
With money, or more particularly the lack of it, dominating the agenda the influence of many individuals in NHS England seems to be waning, while those from NHS Improvement and the Treasury are growing in influence.
Although NHS England still has the most representatives, they are almost matched in the top 50 by NHSI employees. Only NHSI efficiency champion Lord Carter sees his ranking drop significantly (down 22 to 31), while deputy chief executive Bob Alexander, nursing director Ruth May and medical director Kathy McLean all jump straight into the top half of the HSJ100.
Those from NHS Improvement and the Treasury are growing in influence
Given two of these arrived from the Trust Development Authority (Ruth May joined from Monitor), it is little wonder that many comment that this old school system manager seems to have an exercised a very successful reverse takeover of the "market regulator" Monitor.
In contrast, NHS England director of primary care Arvind Madan falls 29 places, his boss national medical director Sir Bruce Keogh slips 14, nursing director Jane Cummings drops to 81 (57 places below her NHSI counterpart) and director of new models of care Samantha Jones sees her ranking fall by seven.
Mr Stevens seems to be placing increasing faith in a range of new recruits, most notably national director for commissioning operations and Information (and effective number two) Matthew Swindells (23) and a range of appointments from the front line such as Keith McNeil (40), Pauline Philip (45), Clifford Mann (63) and Sarah-Jane Marsh (65).
Most impressive of all is the explosive rise up the ranks of national mental health director Claire Murdoch, who shoots up 59 places to number 17 – making her the highest placed figure from the sector in the HSJ100's 12 year history. Justifying this ranking will depend on delivering the new national mental health plan and protecting the money that goes with it. Mr Hunt's decision to take on the mental health portfolio – the first health secretary to do so – should help.
It should also not go unnoticed that the great survivor of the healthcare policy world, NHS England director of commissioning strategy – and architect of the sustainability and transformation plan process – Ian Dodge, jumps 19 places to number 16, making him the organisation's third most influential figure after Mr Stevens and finance director Paul Baumann.
2017 is meant to be all about delivery, both on recovering the service's financial position and beginning to implement the service changes contained within STP plans.
This means prominent positions for some local leaders; including Salford's Sir David Dalton (18), Lancashire's Amanda Doyle (32), Birmingham's Dame Julie Moore (33) and Nick Harding (44), Sheffield's Sir Andrew Cash (37) and Manchester's Jon Rouse (41) and Mike Deegan (47).
Finally, there is an almost complete absence of any political figures from outside the governing party in this year's HSJ100. There are no Liberal Democrat representatives and the two Labour figures, Meg Hillier and Andy Burnham, owe their inclusion to their chairmanship of the public accounts committee and an aspiration to become mayor of Manchester respectively.
Huge shifts in power and influence emerge from the 2016 HSJ100
1

2

3

Currently reading

HSJ100 2016: Jeremy Hunt is the comeback kid

4

5