Health secretary to announce voluntary compensation scheme to "dismantle" litigation culture
Families to be offered independent investigations and new support under scheme
Actions include new investment to help halve rates of neonatal death, stillbirth, maternal death and brain injuries by 2030
Families who suffer harm after failings in maternity care could be given access to a new voluntary compensation scheme, health secretary Jeremy Hunt will announce today.
In a statement the government said the plans for a "rapid resolution and redress" scheme were the "first steps to dismantling the litigation culture", which it said was a barrier to openness and transparency.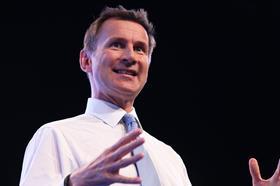 The scheme would be an alternative to families having to take legal action against NHS trusts – which can take many years to reach a resolution.
Mr Hunt will also announce a new mortality review tool to enable standardised recording and investigation of every stillbirth and neonatal death, so lessons can be learned and shared across the system.
Other announcements are expected to include £8m for multidisciplinary training, with at least £40,000 available to each NHS trust; as well as a national quality improvement programme for maternity services.
The voluntary compensation scheme, to be consulted on, will provide families with an independent investigation of the incident and the option to join a compensation system that will offer regular payments to families without having to go to court.
According to the Department of Health a similar scheme in Sweden has been credited with contributing to a reduction in avoidable birth injuries by 50 per cent in the last seven years.
There are up to 500 incidents a year of the type the scheme could investigate and it will also include counselling, case management and legal advice.
Mr Hunt is expected to say: "Our NHS maternity staff do a fantastic job under huge pressure. But even though we have made much progress, our stillbirth rates are still among the highest in western Europe and many on the frontline say there is still too much of a blame culture when things go wrong – often caused by fear of litigation or worry about damage to reputation and careers.
"These comprehensive measures will give practical support to help trusts improve their approach to safety – and help to foster an open and transparent culture so that the courts become a last resort not an automatic first step.
"By learning from proven methods in countries like Sweden we hope to achieve a dramatic reduction in the number of tragedies where babies are lost or injured for life."
The government has previously announced an ambition to halve the rates of neonatal death, stillbirth, maternal death and brain injuries caused during or shortly after labour by 2030.
Other key actions to be highlighted by Mr Hunt include:
Consultation on "safe space" legislation to allow clinicians to talk openly about mistakes without fear of being sued or disciplined.
The appointment of two national maternity safety champions: Matthew Jolly and Professor Jacqueline Dunkley-Bent.
Maternity safety training fund of £8m administered by Health Education England.
A £250,000 innovation fund for safety projects in maternity.
Trusts offered incentives to improve maternity safety
1

2

Currently reading

Hunt aims to 'dismantle' maternity litigation culture