Jeremy Hunt calls for new systems to tackle medication errors in NHS
Medication errors are thought to cause hundreds of deaths per year
DHSC wants accelerated rollout of e-prescribing this year
Jeremy Hunt has launched a bid to reduce medication errors in the NHS, which new research says costs the NHS over 181,000 bed days and causes hundreds of deaths.
Speaking at a patient safety summit in London later today, the health and social care secretary will present the findings of research by experts from Sheffield, Manchester and York universities. It was commissioned by the Department of Health and Social Care.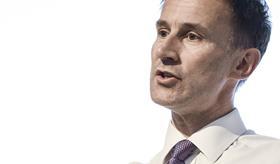 The researchers estimate there are more 237 million medication errors in England a year with 66 million potentially significant clinically mistakes.
The changes Mr Hunt is demanding include accelerating the rollout of electronic prescribing systems in hospitals this year. The DHSC said this could reduce errors by half. The government said only a third of hospitals have a "well functioning e-prescribing system".
Other changes include addressing medication package design. Currently drugs with completely different effects are packaged in the same way meaning staff could make unintended errors. The research being published today includes proposals for these "look alike, sound alike" medicines.
The DHSC wants to create new systems to link data on GP prescriptions with hospital admissions, so patients admitted because of the effects of a prescription can be identified. This will initially focus on patients admitted with gastrointestinal bleeding, which can be caused by anti-inflammatory drugs that are prescribed without medication to protect the digestive system.
The first range of indicators will be published in the spring and then extended to a broader range of medicines.
The government will also press ahead with its plans to decriminalise errors by pharmacists to ensure a more open learning from mistakes.
Mr Hunt will say: "My mission has always been to make the NHS one of the safest healthcare systems and although we do well in international comparisons, this new study shows medication error in the NHS and globally is a far bigger problem than generally recognised, causing appalling levels of harm and death that are totally preventable.
"We are taking a number of steps today but part of the change needs also to be cultural: moving from a blame culture to a learning culture so doctors and nurses are supported to be open about mistakes rather than cover them up for fear of losing their job."
The study said 72 per cent of the 237 million medication errors each year caused no harm.
It says: "There is little evidence about how medication errors lead to patient harm. We had to estimate burden using studies that measured harm from adverse drug reactions. The estimated NHS costs of definitely avoidable ADRs are £98.5m per year, consuming 181,626 bed days, causing 712 deaths and contributing to 1,708 deaths."
This was divided into 627 deaths and a cost of £83.7m in primary care and 85 deaths and £14.8m costs in secondary care.
The report adds: "Error rates per patient in primary care are the lowest but the burden of errors is the second highest due to the size of the sector. Care homes cover fewer patients than the other sectors, but have the highest error rates per patient, leading to a disproportionately high overall number of errors."