HSIB will operate safe space principles ahead of new legislation to protect material
Local NHS organisations will not be granted safe space powers
Jeremy Hunt says extending safe space locally would be "premature"
The Department of Health will not extend plans for a legal safe space during safety investigations to local NHS organisations.
In a consultation response, published today, the DH and health secretary Jeremy Hunt accepted now was not the right time to extend these powers to trusts and other bodies.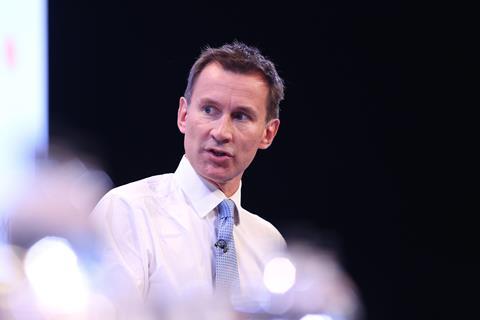 The safe space requirements mean information generated as part of an investigation will be kept confidential and cannot be used by other organisations or families.
The document confirms the government believes the Healthcare Safety Investigation Branch should be able to keep sealed the material it collects as part of an investigation.
Plans to extend the safe space protections to local NHS organisations were criticised last year by experts and patient safety campaigners, who were also supported by HSIB chief investigator Keith Conradi.
The consultation launched in October and had 145 responses, with over 60 per cent in favour of creating a safe space at a national level.
On extending safe space to local organisations however, the consultation said the challenge for the NHS was winning people's trust.
"There was general recognition that the standard of some investigations in the NHS was poor… patients and staff alike did not yet trust the NHS locally to use this fairly or properly – patients saw it as a way to avoid accountability, while staff saw it as a potential way for their employers to force self-incrimination," the document said.
Mr Hunt said: "The majority view was that the safe space proposal would be of most use for HSIB in carrying out its investigations. Many respondents in fact felt that HSIB would not be able to function properly without the creation of a safe space for the contributors to its investigations.
"However, there was also concern about allowing NHS trusts, foundation trusts and other providers of NHS funded health care to take a safe space approach to their own investigations and that any extension of the safe space principle to local investigations would be premature."
He added that the current duty of candour "will not change", and said: "Patients, families and staff therefore only gain from these proposals. Bearing these points in mind, should we proceed in future to extend the protections offered under safe space principles to local level safety investigations, we will do so only following further consultation, and only as agreed by HSIB."
In its response, the DH accepted there is widespread mistrust over how local NHS organisations could use powers to prevent information collected as part of an investigation from being released.
The idea behind a safe space is to allow NHS staff to be open with investigators about what led to incidents. The information that would be considered protected includes witness statements, notes and recordings.
This has led to concern families could be denied information about what happened, however Mr Conradi has said families will be at the heart of investigations and will receive all relevant information about what happened.
The DH has concluded that HSIB should adopt safe space principles for its work but without legislation material is not actually protected. It said the government "remains open to considering the option of legislation".
The document added: "In time, and only at the point where the principles of safe space have been tested and trusted at a national level, will we consider extending the adoption of safe space to investigations undertaken by or on behalf of providers and commissioners of NHS funded care."
This would have conditions: the powers would be used by local organisations to investigate neighbours rather than their own incidents under an invited review mechanism; they meet criteria set down by HSIB; and a further consultation is carried out.
More than a third of consultation responses were opposed to safe space altogether and these were predominantly views from patients, families and representative organisations.