NHS Litigation Authority to be renamed NHS Resolution from April
New organisation will focus on earlier intervention in maternity cases
It will seek to reduce harm through learning and sharing good practice
Jeremy Hunt is to announce an overhaul of the NHS Litigation Authority aimed at reducing the number of clinical negligence cases and improving learning from incidents of harm.
From 1 April, the authority will be renamed NHS Resolution and will put more resources into intervening in maternity related cases earlier, as well as spreading knowledge and developing new interventions to reduce mistakes in healthcare.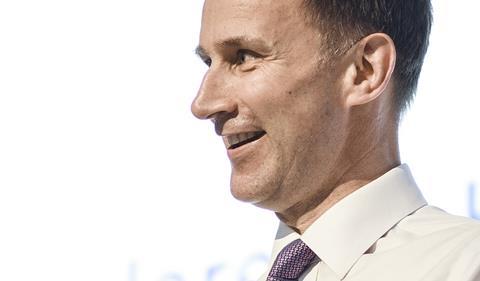 The health secretary will be speaking later today at the learning from deaths conference hosted by NHS Improvement.
The litigation authority, which handled more than 15,000 claims against the NHS in 2015-16, will shift its focus away from claim management to proactive, earlier interventions to support families, while providing advice to help the NHS learn from mistakes.
NHS Resolution will employ a specialist early intervention team with a focus on brain injuries at birth. The team will identify cases early and support families so cases could potentially be settled much quicker. It will also work with NHS Improvement to reduce brain injuries at birth.
The changes are part of the government's drive to halve the rates of stillbirth, neonatal and maternal deaths, and brain injuries suffered at birth by 2030. The Department of Health is currently consulting on plans for a new rapid redress and resolution scheme for cases involving severe birth injuries.
NHS Resolution will also aim to resolve concerns and disputes quicker with more use of mediation and dispute resolution, to reduce the number of costly court cases.
It will also provide more analysis and expertise to drive improvement, which could include helping to develop solutions, in partnership with other organisations, to prevent patient harm being repeated.
It will bring together the litigation authority's three operating arms: litigation management; the National Clinical Assessment Service, which tackles concerns about doctors practice; and the Family Health Services Appeal Unit, which handles disputes between primary care contractors and NHS England.
Helen Vernon, chief executive of the litigation authority, said NHS Resolution's five year strategy "extends our role beyond the historic narrow remit of claims management". She added: "In those rare cases which involve brain damage at birth, we will work with the family, healthcare staff and the trust, right from the start, to ensure that we learn from what went wrong and share this rapidly across the NHS.
"Increased support to the NHS in delivering candour in practice and in sharing learning for improvement will be coupled with a fresh approach to resolution which reduces the need for costly and stressful court proceedings."
The authority has seen the costs of clinical negligence claims rise to £1.5bn a year and more than £56bn is set aside for the cost of compensation claims to the NHS.
Mr Hunt will say: "The new plans for the NHS Litigation Authority to relaunch as NHS Resolution will mean there will be an enhanced focus on learning and prevention, not just litigation. This brings us closer to the NHS becoming the world's largest learning organisation so when things do go wrong, lessons are learned quickly, shared across the system, and ultimately patient care is improved."