Shadow health secretary says Labour "burnt" by previous attempts at cross-party cooperation
Jon Ashworth also announces Labour's new heath innovation policy
Norman Lamb: "We can't just keep shouting at each and blaming the evil Tories"
Labour will not back calls for a cross-party review of long term funding for the NHS, shadow health secretary Jon Ashworth has said.
Speaking at an Institute for Public Policy Research event in Westminster today, Mr Ashworth said while the idea had "merits" he was "not convinced it would get off the ground".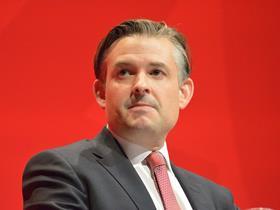 "I'm entirely sceptical that the government would engage in this," he said.
He also said that Labour had been "burnt" by previous attempts to cooperate on health and care funding in the past.
Mr Ashworth was responding to calls earlier in the day by Liberal Democrat MP and former health minister Norman Lamb for a "time limited" cross-party review of the long term funding settlement for the NHS.
Mr Lamb said NHS funding was "stumbling towards a precipice" and hard decisions would need to be made, such as reducing benefits for wealthy pensioners, to support the health service.
He said: "We can't just keep shouting at each and blaming the evil Tories for the next four years."
During the winter, MPs from the Liberal Democrats, Labour and the Conservatives have urged a new "cross-party solution" for long term funding of the NHS.
The approach has not been endorsed by the government, though health and social care secretary Jeremy Hunt has asked for a longer term settlement to be agreed.
Mr Ashworth also announced Labour's new health innovation policy.
The proposals included:
using an unspecified portion of the extra £10bn capital pledged by Labour for the NHS to create a "national innovation fund";
doubling funding for academic health science networks;
introducing "innovation scouts" at trust board level; and
a review of the application of "cutting edge" technology in the NHS including artificial intelligence.