Jim Mackey says "reset" of what the NHS can achieve with available funding is needed
Departing NHS Improvement chief warns "none of us really feel like we've got a long term plan"
Mr Mackey "can't wait" to return to Northumbria Healthcare FT
NHS Improvement chief executive Jim Mackey has warned ministers that if the NHS does not get more money in the budget there will be the need of a public debate about "what is actually possible to deliver" within the current funding envelope.
Mr Mackey, who will leave NHSI later this year, told the NHS Providers annual conference today there needed to be a "reset" of the expectations about what the NHS could deliver and the funding required to do so.
He said: "If there is no more money in the Budget, honestly, I think we need to sit down… and think collectively [about] what is actually possible to deliver within that resource. We can't do everything."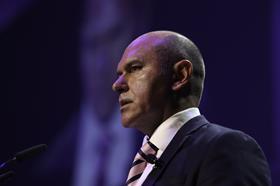 He opened his speech by apologising to the audience largely comprising NHS hospital managers of being "too optimistic" when he addressed the conference last year – a comment that set the tone for a speech in which he underlined how much pressure the system was under.
The system was "just juggling hand to mouth" and lacked a sustainable long term plan, he warned.
He said: "At some point there is going to have to be an adjustment of what the expectations are… Operational pressure is too great, there's too little headroom, too much pressure right across the system and we have to find the way of opening the safety valve to decompress that."
He added: "None of us really feel like we've got a long term plan for pulling together over the next five to 10 years."
He said that while 50 per cent of providers expected to record either a surplus or breakeven in 2017-18, only a small proportion of those were doing so in a way that could be sustainable in the longer term.
Mr Mackey, who will return to his job as chief executive of Northumbria Healthcare Foundation Trust later this year, also said the provider sector was "far too centrally controlled" and called for a more devolved system.
Policies such as enforcing control totals and financing trusts via the sustainability and transformation fund had been "effective" but that they were "very short term [measures] and can't work forever", he said.
He added: "We are far too centrally controlled at the moment. We have to find a new way out of this at some point which is much more about devolved systems, devolved institutions."
During the question and answer sessions, he said he was a natural "devolver" and warned system leaders that when he returned to Northumbria he would not "allow" the centre to "micro manage" the way he operated.
He also said he "can't wait" to get back to leading the trust and that he needed time to "decompress" what he had learned in his two years at NHS Improvement.