Projected deficit more than double the £94m forecast for 2015-16
System leaders insist health economy can be balanced by March 2019
Crucial details on service cuts yet to be finalised
Mid and south Essex faces a £216m deficit by 2018-19, but system leaders insist the health economy can be brought to financial balance by March 2019.
The ambitious target has been set for the area as part of the national success regime programme, the NHS's flagship programme to stabilise some of the most distressed health economies.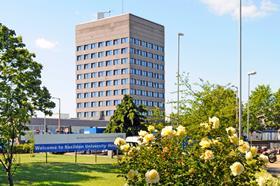 An Essex success regime's operational briefing, published on Tuesday, said that by 2018-19 it was estimated that the NHS in mid and south Essex would spend £2.25bn, but only receive funding of £2.03bn.
The £216m deficit is more than double the £94m forecast for the system at the end of 2015-16.
Andrew Pike, NHS England's Essex area director and coordinator of its success regime, told HSJ: "I believe [balancing the health economy] is doable but it's a big ask. We are realistic that there is no golden crock of money over the horizon. If we can get these plans to work you get pretty close to a breakeven position."
System leaders are clear that retaining the same level of services in all three mid and south Essex hospitals is unsustainable – but crucial details on exactly where service cuts will be made have not been finalised.
The three financially challenged trusts in the Essex success regime are: Basildon and Thurrock University Hospitals Foundation Trust; Southend University Hospital FT; and Mid Essex Hospital Services Trust.
Mr Pike insisted more details on substantial reconfiguration of acute services would be made public in the summer.
The briefing set out a series of broad areas where system leaders are targeting savings. It said the success regime team had so far identified £214m of potential savings by 2018-19.
These include: £18m from shifting activity to lower cost settings; £17m from reconfiguring clinical services around "hub and spoke" models and reducing agency spending; and £44m from better demand management.
System leaders have pledged there will be no hospital closures or hospital trust mergers, but a substantial reconfiguration of acute services will be carried out.
The reconfiguration will be overseen by what leaked documents obtained by HSJ called "single leadership", which will be established to run the three acute trusts as a "network".
Mr Pike told HSJ more details on the "group model" and how the governance will work will be published in May.
He insisted the new leadership arrangements would not provide an additional cost burden because the overarching team would be drawn from the three trusts' existing leadership.
He said: "It is the same people organising themselves and thinking differently. Definitely no more costs." He said while he was not drawing up the plans himself, he saw the new model as "the same people organising themselves differently and changing how they delegate decision making".
Basildon chief executive Clare Panniker is heading a team overseeing how the group model will work.