Report criticises Monitor, FT and audit firm
Monitor claims "no evidence of a breakdown in its provider appraisal process"
Monitor accepts recommendations to approve key assurance processes for new FTs
A report into how a large hospital provider was authorised as a foundation trust shortly before declaring a large deficit has criticised Monitor's appraisal team, the trust and its auditors.
However, Monitor has argued the review "found no evidence of a breakdown in Monitor's provider appraisal process".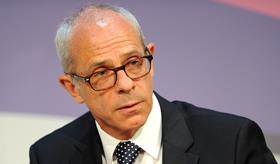 A year after St George's University Hospitals in south London was authorised as an FT, Monitor has published a report into what went wrong with its processes.
The organisation was authorised in January 2015, with Monitor believing it was predicting a year-end surplus of £5.6m. It instead ended 2014-15 with a deficit of £16.8m.
It has had a turnaround director appointed by Monitor following a predicted deficit of £46.2m for this financial year.
Last week Monitor published a report by consultancy Health Group Internal Audit into how the regulator came to grant the trust FT status despite a significant deterioration in finances in December 2014.
The firm found that the trust had submitted two separate financial plans for 2015-16.
After several deferrals Monitor's provider appraisal executive – including then chief executive David Bennett, director of provider appraisal Miranda Carter and head of legal Kate Moore – told the trust it must apply to the Independent Trust Finance Facility for working capital as a buffer before it could be approved.
Mr Bennett announced he was stepping down in June last year, and the regulator and the NHS Trust Development Authority now share a chief executive, Jim Mackey.
When St George's made the ITFF application its figures showed its deficit could hit £19.5m – whereas Monitor were shown a document predicting a surplus of £1.7m.
The HGIA report said four days before the provider appraisal executive approved the trust on 30 January 2015 it had received financial information showing "significant 'in-month' deterioration… which should have warranted more detailed review". Monitor's assessment team for St George's, led by David Hoppe, also spoke to the organisation's finance director Steve Bolam.
Once the working capital was granted, FT approval was given by the provider appraisal executive. The more complex decisions are made at Monitor's full board meeting.
The report also found breakdowns in communication between Monitor and the trust's assessors EY, particularly over how much work the latter was expected to do in evaluating the trust's finances.
HGIA found that despite the provider assessment team expressing their concerns to EY on 26 November 2014, the provider appraisal executive was not told two months later.
Monitor claimed the HGIA report had overall "found no evidence of a breakdown in Monitor's provider appraisal process". The regulator has not yet released another report into what happened, which it commissioned in May 2015.
Last week Monitor said it accepted HGIA's recommendations to:
review "financial reporting procedures" and "working capital review" process to ensure they remain fit for purpose;
work with reporting accountants "to ensure there is a full and common understanding of the breadth and depth of the work required by them on these reviews"; and
get third party assurances where the information submitted by a trust is more than a month old.
Last February, Mr Bennett refused a Freedom of Information Act request from HSJ for provider appraisal executive documents relating to St George's FT application.
Mr Bennett exempted the reports on the basis that releasing them might "inhibit the free and frank provision of advice".
He applied another exemption to the St George's papers, saying: "Monitor requires a great deal of detailed information from applicant trusts.
"Monitor relies on the full and frank provision of information from trusts in order to be able effectively to carry out its regulatory functions.
"I would not wish to prejudice that relationship of trust and confidence if at all possible."
Minutes from the executive, which were disclosed under the act, reveal that in September 2014 it "questioned whether the provider appraisal directorate had sufficient analyst and senior manager resource to optimally undertake its current work programmes".
Since St George's approval, only one other large trust has been made and FT – Oxford University Hospitals in October.
At the Commons public accounts committee last month, Mr Mackey told MPs "very little" effort was being put into helping non-foundation trusts become FTs.
He said it was not a significant concern to his organisation and only around 10 organisations had any hope of satisfying the authorisation requirements.
The authorisation process has been criticised by the inquiries into care scandals at Mid Staffordshire and University Hospitals of Morecambe Bay, when organisations compromised safety in order to hit the financial criteria.
Downloads
PDF, Size 0.21 mb

PDF, Size 0.79 mb
FT's deficit slide remains a mystery after damning leadership report
1

2

Currently reading

Monitor: 'No breakdown' in FT approval process