Healthcare Safety Investigation Branch will lead investigation into 1,200 baby and mother deaths and injuries
Jeremy Hunt to consider changing the law to allow coroners to investigate still births
Trusts to be given 10 per cent discount on litigation premiums for meeting safety actions
The health secretary is to hand control for investigating hundreds of avoidable baby deaths from trusts to the Healthcare Safety Investigation Branch.
From next April, HSIB, which was established earlier this year, will take over the local investigations of almost 1,200 avoidable baby and mother deaths as well as cases where babies were born with significant brain injuries.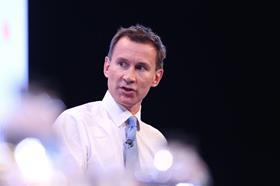 In a speech on maternity safety today, Jeremy Hunt will also reveal plans to change the law to allow coroners to investigate full term stillbirths. He will discuss the change with all UK nations before a public consultation.
Mr Hunt told HSJ ahead of the speech: "This is about piloting a radically different approach to investigations when things go wrong and if it works in maternity then we will replicate it elsewhere.
"The problem we have at the moment is that sometimes the quality of the investigations isn't as good as it should be. We have recognised the most important outcome of an investigation is not just to give a family an accurate account of what actually happened, but also to make sure learning from these mistakes happens, and to make sure that is transmitted not just across that trust but across the whole NHS."
The Department of Health said half of all litigation claims against the NHS were now maternity related. As part of a package of measures to help reduce errors and claims, NHS trusts that demonstrate progress against specific maternity safety improvements will be given a 10 per cent discount on their premiums with NHS Resolution.
Mr Hunt will say in the speech: "The tragic death or life changing injury of a baby is something no parent should have to bear, but one thing that can help in these agonising circumstances is getting honest answers quickly from an independent investigator. Too many families have been denied this in the past, adding unnecessarily to the pain of their loss."
HSJ understands HSIB will recruit investigators including staff from within and outside the NHS to create a regional structure of independent teams who will take control of local investigations on behalf of trusts.
The investigations will follow HSIB's human factors and safety learning approach with an emphasis on "no blame" and involvement of families from the outset. The investigations will not be carried out under the principle of "safe space" and trusts will still be expected to comply with duty of candour legislation and share information with families.
Details to be published today will say: "HSIB maternity investigations will be shorter allowing families to know what happened more quickly and ensure that all relevant information is passed to the family. Each HSIB maternity investigation will take a clinically appropriate approach, working with families, clinicians with neonatal, paediatric and obstetric expertise and with local teams to establish what happened."
Cases will need to meet the same criteria as the Royal College of Obstetricians and Gynaecologists' Each Baby Counts investigation, which in 2015 included to 1,136 babies. Where incidents meeting the criteria occur, trusts will alert HSIB, which will begin an investigation.
Mr Hunt's announcement fulfils a recommendation from the Morecambe Bay inquiry, which called for "clear standards" for investigating maternity incidents including mandatory reporting and independent scrutiny.
James Titcombe, whose son Joshua died at Morecambe Bay, added: "This is a step change for maternity safety in England. The Morecambe Bay investigation starkly illustrated how dangerous the currently system of investigation and learning in our maternity services can be and made a recommendation specifically to address this. The announcement today is the ultimate response to those events, meaning that from April 2018, no family will ever again be left having to fight for honest answers as to how and why their baby died.
"Most importantly, the proper investigation of these cases will mean that we can start to develop a proper understanding of why these events occur and make local and national changes to reduce the chance of them happening in the future."
The government has already announced plans to introduce a "rapid resolution and redress" scheme offering families whose children have suffered brain injury due to clinical negligence faster access to compensation rather than going through the courts.
However, this could mean families receive up to 10 per cent less compensation than they might by bringing a successful clinical negligence claim to court.
Other plans include:
An e-learning programme for staff involved in the care of newborns as well as an online platform to share best practice.
The government will bring forward its target to halve the rate of stillbirths and neonatal and maternal deaths and brain injuries between 2013 and 2025, which if achieved could save 4,000 lives.
There will also be a new single definition for brain injuries after birth and extra support for trusts from royal colleges to improve clinical leadership and learning from errors.
Ministers will also aim to reduce the number of premature babies and train more than dozen consultants to develop a maternal medicine network.
Update: The story was updated at 10.09am on 28th November to include new information from Department of Health to clarify the maternity investigations will not be carried out under safe space principles.
Exclusive: Internal market and FT 'islands' hamper safe care, says Hunt
1

2

3

4

Currently reading

National investigators to take over trust reviews of baby deaths