A former director general at the Department of Health has been appointed as interim chair of NHS Improvement.
Richard Douglas, a current non-executive at the regulator, retired as director general of finance, commercial and the NHS at the DH in April 2015.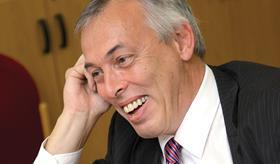 His appointment, announced today, starts on 21 July and the DH said this will last until 31 December or until "a new chair is appointed, whichever is sooner".
Last month it emerged civil servants were vetting a number of candidates for the role, including former chief executive of TalkTalk Baroness Dido Harding. The Conservative peer and wife of MP John Penrose was thought to be a leading candidate.
Health minister Philip Dunne is yet to make a decision on a preferred candidate for substantive chair.
It is unlikely any appointment for the permanent position could be made before the autumn, as the DH's nominee will be required to attend a Commons health committee hearing first. This is not expected to happen during parliament's summer recess – meaning even if there were a nominee for the permanent position, the committee hearing would not take place until September or October.
The appointment of Mr Douglas as interim chair is a clear signal of a requirement to maintain financial rigour for the NHS provider sector. Mr Douglas was the longest serving finance director general for the DH and he also served for three years as head of the government finance profession, an appointment made by the Treasury.
During his time at the DH, Mr Douglas was responsible for consolidating the NHS accounts – covering approximately 7 per cent of UK GDP. He also had responsibility for NHS policy and was the DH's sponsor for a string of NHS arm's length bodies including NHS England, Monitor and the NHS Trust Development Authority.
He started his career with the National Audit Office and was finance director for National Savings and Investments.
The DH said: "Ed Smith, the current chair of NHS Improvement, ends his term of office on 20 July 2017, and as the recruitment process for a new chair is ongoing, an interim chair needed to be appointed. The Department of Health consulted with the Commissioner for Public Appointments on the interim appointment.
"The chair of NHS Improvement is legally appointed as both the chair of Monitor and chair of the NHS Trust Development Authority. The time commitment and remuneration for both roles will be at a rate of £63,000 per annum for two to three days per week."
Mr Douglas has not declared any political activity as part of his appointment.
Source
Department of Health