NHS England audit of midwifery investigations called "meaningless"
Audit followed the death of baby Kate Stanton-Davies but only looked at processes
NHS England had told parents it would consider the quality of investigations
NHS England has been accused of "actively enabling poor midwifery care" following the completion of a "meaningless" review of NHS investigations into failings in maternity care.
The report, published by the national commissioning body last week, highlights widespread variation in the way midwifery investigations are undertaken. It has been criticised by the parents of Kate Stanton-Davies, whose death in 2009 prompted the audit to be carried out in 2015.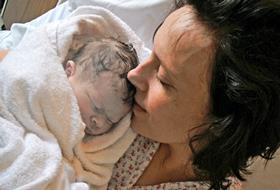 Her mother Rhiannon Davies and father Richard Stanton said the audit failed to look beyond the process supervisory midwives are supposed to follow and did not consider the quality of the investigation or seek the views of families involved. They said NHS England had promised them it would do so during a meeting last December.
Kate died after failings by midwives, which were followed by an investigation that was "not fit for purpose", according to a review of the case published in 2015. Midwifery expert Debbie Graham said Kate's death and the "flawed" investigation had "echoes of Morecambe Bay" – a reference to the maternity care scandal that led to the avoidable deaths of 11 babies and one mother.
Ms Graham recommended NHS England carry out an audit of midwifery investigations in England to make sure similar issues, including the standards of decision making, were not more widespread.
Ms Davies told HSJ NHS England had "trampled all over Kate" in failing to consider the quality of investigations and involve families.
She said: "It means that the system-wide failings that contributed to Kate's death are able to continue and to cost lives. NHS England is actively enabling poor midwifery care; there is nothing here that is preventative.
"It's a complete waste of time and public money, and a waste of our time and emotional energy. We presented everything to NHS England on a plate to learn from Kate's death and they have thrown that in our faces. It's another wasted opportunity to learn; there is no appetite for learning."
The audit by NHS England, which is responsible for supervisory midwives, examined more than 290 investigations between January 2014 and December 2015. The report was approved by chief nurse Jane Cummings, deputy chief nurse Hilary Garratt and head of maternity Jacqueline Dunkley-Bent.
It found "varying levels of compliance" with guidance on carrying out investigations and practices, as well as a lack of data and evidence that actions were taken.
Evidence of involving the mother or family in an investigation was particularly poor – ranging from only 44 per cent of the investigations in London to 55 per cent in the South. In one Local Supervising Authority area it was as low as 26 per cent. There are 10 LSAs in England that oversee issues relating to midwifery practice.
The audit found evidence that families had been informed about the outcome of an investigation was below 50 per cent in most regions, with only the North recording higher at 68 per cent.
It also identified a lack of follow-up once an investigation had been completed, meaning "it was difficult to see any measure of impact as a result of the investigation". It also found that "across the board" supervisory midwives had not fully considered factors as part of root cause analysis methods.
It said: "There was no consistency about which aspects of the process were more easily evidenced than others, with [LSAs] complying with different steps of the guidance in full, while meeting partial compliance on others and little consistency between them."
James Titcombe, whose son Joshua died as a result of failings at Morecambe Bay, said: "This work is very disappointing as an audit of process is very different from an audit that actually looks at the quality of the investigation. The crucial question is whether or not all the issues and learning points have been properly identified and whether the right recommendations have been made?
"An audit looking at process only would not have uncovered the significant flaws with the report carried out in Joshua's case. This report doesn't actually answer the question it was intended to – are systemic problems with investigations that were present in 2009 still present today?"
An NHS England spokeswoman said: "This independent audit was designed to assess compliance with each stage of the investigation process. The Graham report recommendations did not include reviewing the content and outcomes of all the supervisory investigations that were audited.
"In the light of the pending legislative changes to the statutory model of midwifery supervision and oversight, most of the recommendations in this report will have limited relevance but we will be able to take any learning into the future non-statutory model of midwifery supervision."