National patient safety director Mike Durkin is to resign from his role at NHS Improvement after almost five years.
Dr Durkin will continue in his role at the national regulator until the end of May. NHS Improvement said arrangements for identifying his successor will be announced soon.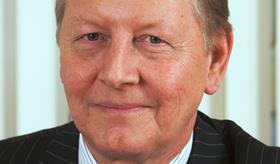 In a letter to his team today, he said: "I believe the NHS is becoming the safest health care system that offers universal coverage to millions of our population in England every day of every month. We have achieved some incredible advances in the way we now collect and measure indices of patient safety, how we alert the NHS, and most importantly how we have introduced real game changers to improve the capacity and capability of the NHS to respond to the needs of our patients and their families when things have gone wrong.
"Our challenge now is to build on those successes, seek to translate and implement the execution model of those successes for all relevant settings and instil a renewed confidence in our system for our staff and patients as we continue our journey of continuous improvement to deliver the most reliable and resilient health care system."
Dr Durkin told HSJ: "I have decided to leave NHS Improvement at the end of May for a number of reasons but significantly to concentrate on supporting all sectors and settings across the NHS so that we do become the safest healthcare system in the world.
"I will also be putting my efforts into supporting leaders in patient safety across England as well as many other countries as they work to develop local and national systems with their patients, professional and political leaders."
Dr Durkin qualified as a doctor in 1974 and worked at the Middlesex Hospital in London. He held research and teaching appointments in London and Bristol before moving to the USA where he worked at Yale University's medicine school.
In 1990, he returned to the UK as a clinical director before accepting a post as the first medical director of Gloucestershire Royal Trust from 1993 to 2002.
After reforms to the NHS he worked for the Avon, Gloucestershire and Wiltshire health authority before being appointing medical director for the South of England strategic health authority.
He was the first national director of patient safety for the NHS in 2012, based at NHS England before the role was transferred to NHS Improvement last year.
NHSI medical director Kathy McLean said: "Thanks in large part to [Dr Durkin's] work, the NHS is safer – recognising that being open when things go wrong means that we must take action to prevent similar mistakes happening again elsewhere. I wish him well for the future."
She added: "Mike has brought his very broad leadership skills to this and other roles during his extensive career in the NHS. He led the establishment of the Q Community in partnership with The Health Foundation, the new national training programme for mortality case record review, and the Healthcare Safety Investigation Branch, which will launch in April.
"His leadership of the development of the national maternal and neonatal health improvement collaborative has led to the largest quality improvement programme for the health and wellbeing of mothers and their babies."