Jim Mackey has said health leaders are "completely boxed in" by Treasury accounting rules when it comes to borrowing money for capital investment.
He warned "we will really regret" not taking advantage of historically low interest rates.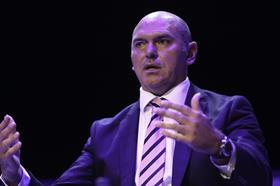 The chief executive of NHS Improvement has been arguing for several months for health organisations to be granted greater freedom to borrow from council pension funds or private sector investors, but there has not been any relaxation to the rules.
Looser rules for local authorities and academic institutions mean they can take a "more enlightened and liberal approach" than the NHS, Mr Mackey said.
Borrowing by NHS providers scores against the Department of Health's capital spending limit, which is significantly lower than the level required to fund the transformation projects being envisaged by sustainability and transformation partnerships.
Mr Mackey warned these constraints mean the NHS is forced to "dumb down our ambitions" and create potential workforce and recruitment difficulties.
Speaking at the Chartered Institute for Public Finance and Accountancy conference yesterday, he added: "From a personal point of view people have seen what I've said about private finance initiatives and borrowing rates, creating capital vehicle, etcetera.
"We will really regret this period with the current levels of borrowing and our inability to be creative about what's on the books [and scores against the DH spending limit] and what's not. By the time we get round to it, we'll have 5 or 6 per cent borrowing rates again and we'll all be kicking ourselves. So I'm going to continue to push really hard on that.
"In my experience, there's almost always a source of cash; it's usually the accounting treatment and whether it's on the books or not that stops it, and it's absolutely wrong…
"At the minute, if you get the source of money from a pension fund, for example, it's treated in exactly the same way as if it's produced by the government.
"So that just feels really, really silly to be honest."
Asked if NHS organisations should be given similar freedoms to councils, Mr Mackey said: "I think that would be a fantastic step forward…. We are completely boxed in on every front. I have conversations every day with people who have got a fantastic proposition but that just can't fly because of some technical reason. Frankly, we just have to find a different way of doing it."
However, he added there are still too many bids for capital funding for projects such as outpatient units, which he suggested were fast becoming an outmoded model of care due to digital technology.
NHS leaders 'boxed in' by Treasury rules, warns Mackey
1

Currently reading

NHS leaders 'boxed in' by Treasury rules, warns Mackey

2