UCLPartners boss sets out concerns to Jim Mackey after experience with Essex success regime
Sir David Fish cites unrealistic targets and insufficient central support for areas driving major reconfiguration
Warns regulators that "old style" approaches would hamper collaboration
However, he says he is "very impressed" with recent changes made under Mackey
An influential NHS figure has issued a stark warning to Jim Mackey on how unrealistic targets, insufficient central support and divisive regulatory tactics are hampering local efforts to reconfigure services.
UCLPartners managing partner Professor Sir David Fish also warned the NHS Improvement chief executive that "old style approaches" – such as control totals for organisations – would drive "defensive behaviour" and impede joint working.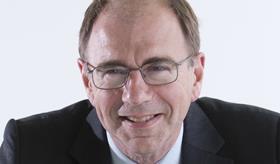 Sir David set out his concerns in a letter sent in February following three months as interim chair of the mid and south Essex success regime. He outlined how local plans were being undermined by "mixed messages" and "resistance" from regulators.
The respected academic health science network leader said he had shared his views with other senior figures and found "the story in Essex is not unusual".
A "key observation" from Essex was that "frontline staff, myself included, feel unsupported given the journey we have been asked to undertake", he said.
The letter, seen by HSJ, continued: "In the absence of adequate support, headroom for local leaders, and bridging resources this installs a fear of perceived failure to meet (unreasonable) expectations, or plans that are not fully owned, which will drive defensive behaviours more than delivery at pace.
"If regulators rely on, or return to focus on, old style approaches and plans for individual organisations that split partnership working, it goes against the challenging missions of [the Five Year Forward View] and success regimes."
He outlined how organisations in the Essex regime wanted to move away from old style volume contracts to focus on population level funding, but individual control totals and sustainability and transformation fund rules were impeding progress.
The revelations follow system leaders announcing a highly ambitious target in March for the Essex success regime, which requires the health economy to wipe out a £216m deficit by March 2019.
It is forecast that, in its current form, the services in the region would require £2.25bn of funding by 2018-19, but would only receive £2.03bn.
The three acute providers involved have established plans for a "group model" in which a leadership team would run the three trusts with combined revenues of £840m, as a "network" of hospitals with a "flexible workforce"
Sir David's letter said there was "disappointment about the apparent national nervousness and uncertainty on group models". Local leaders were forced to get external legal advice "rather than more senior direct input from NHS Improvement", he said.
UCLPartners told HSJ last week Sir David stands by his critique, but he had been "very impressed" with the progress made by NHSI under Mr Mackey to change to regulator's approach.
In a statement he added: "[Mr Mackey] has already significantly mobilised the organisation towards a partnership based approach to support the new ways of working described in the Five Year Forward View.
"It takes time for large, complex organisations to change their approach – and adapting to both regulate and support new systems of care is a huge task – but change is happening at a local and national level.
"However, with an population based system of care, the acute sector is only one component, so it is essential for all parties to work together to enable the best out of hospital care for patients.
"As always, the key to success will be continued alignment and flexibility on all sides to deliver the pace of change required."
Sir David said he had seen the "change first hand in south and mid Essex over recent weeks as their group model for acute providers develops, which aligns much more with the messages of intent coming from the national bodies".