Jim Mackey says £1bn could be saved by stripping back NHS England and NHS Improvement
STPs and ACSs "far too bloody complicated for most people"
Merging Northumbria and Newcastle trusts is a "once in a lifetime" opportunity
The former chief executive of NHS Improvement has said £1bn could be saved by "ruthlessly" stripping back national bodies and local commissioners – and warned that plans to establish accountable care are "far too bloody complicated".
In an interview with HSJ, Jim Mackey also said there was now a "once in a lifetime opportunity" to bring his Northumbria trust together with Newcastle upon Tyne Hospitals Foundation Trust.
In a major interview with HSJ marking the end of his tenure at NHSI, Mr Mackey also: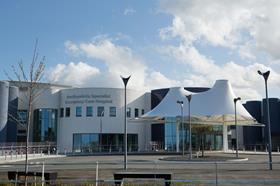 Asked whether he wanted to see NHS England and NHSI become more integrated, including joint board appointments, Mr Mackey said: "Absolutely."
He said "at a provider or local system level, it is incredibly chaotic", noting that "frazzled" managers in his trust were having to field multiple calls from regulators despite being within a percentage point of hitting the four hour accident and emergency target.
He said accountable care organisations and systems, and sustainability and transformation partnerships, were "far too bloody complicated for most people".
"Let's simplify that and work out what do you actually need in the local system, and then work out what kind of oversight and support they need, working back up through the system, and make sure it's getting simpler, cheaper and more effective.
"That will drive you to the things that we need to do once rather than three of four times across the national bodies," Mr Mackey said.
He said he "couldn't believe the cost of the architecture" when he took over at NHSI. Mr Mackey returned to Northumbria Healthcare FT last week after two years on secondment at the regulator.
He continued: "It would need to be done properly but I think if you did it really ruthlessly, the way that in a provider you go at your overheads, we should be able to get a billion quid out. It's really serious money.
"You [would] get loads of spinoffs, of lots of people having time to do what they need to do."
Asked about continued allegations of bullying by national bodies, Mr Mackey said: "We put a lot of effort in at NHSI to try and make sure our interactions are professional and respectful. I did have a couple of direct examples of people feeling they'd been bullied and that was dealt with.
"[After last month's NHS Providers conference] I did three calls and physical meetings with chief executive colleagues who were under a lot of pressure. It wasn't from [NHSI] but they were feeling under a lot of pressure and were very nervous about how they said what they needed to say.
"They were under pressure from other parts of the system, a mix of different bodies, and that's not good is it?"
Mr Mackey said national leaders should focus on alternatives to the existing tariff payment system, which he said was "pointless" because it was "so far out of sync with actual cost".
"We have to have a conversation about mechanisms that we know work. We know that incentivisation in primary care works. I think incentivisation in social care, around discharge would work, if we could come up with mechanisms to do it.
"If I was still in the national system, I'd like the next six months or so to have a big focus between both of the main national bodies on finding new mechanisms," he said.
'Once in a lifetime opportunity' to bring Newcastle and Northumbria together
Asked whether he should be the next chief executive of Newcastle upon Tyne Hospitals FT, Mr Mackey said: "I'm looking forward to being chief executive of Northumbria.
"Newcastle and Northumbria have a relationship that's been hard to manage over the years but clinically it works very well, and it would be really nice to see a partnership in the way that you've got in Manchester, in Birmingham and other places emerging.
"There's a once in a lifetime opportunity to have two outstanding organisations working together. What that means for me, I'm not going to comment."
Manchester is seeing the development of two hospital groups – one centred around the Salford Royal FT, the other around the newly expanded Manchester University Hospitals FT, which is now the single biggest provider in the NHS.
University Hospitals Birmingham is in the process of taking over Heart of England FT.
In both cities, well regarded leaders have taken over the running of struggling neighbours.
Both Newcastle and Northumbria are rated outstanding by the Care Quality Commission. However, Newcastle's former chief executive Sir Leonard Fenwick, who is known to have had a difficult relationship with Mr Mackey, was dismissed for gross misconduct earlier this year. Sir Leonard's successor is expected to be appointed in the new year.
Mr Mackey said the trusts should "go into a process of collaboration".
He said: "It's a version of David [Dalton, Salford Royal FT chief executive]'s group thing, potentially, and what Mike [Deegan] did with Central Manchester and South Manchester, what Julie [Moore]'s doing with Birmingham. They've led to merger eventually.
"But I think you should start at a point first of always saying, 'what can we do together, how can things be better', without necessarily having to merge."
'Ruthless' rationalisation of regulators and CCGs could save £1bn, says Mackey
1

Currently reading

'Ruthless' rationalisation of regulators and CCGs could save £1bn, says Mackey

2

3

4