NHS England chief executive Simon Stevens attended meeting where decision not to publish 2015 report was taken
MP calls for Commons health committee to ask Mr Stevens about HSJ's revelations
NHS England chief executive Simon Stevens was present at a meeting where a decision was taken not to publish a 2015 report which exposed concerns about children's cancer care in London, minutes newly released to HSJ show.
Minutes of a meeting of NHS England's specialised services commissioning committee record Mr Stevens as present along with several of the organisation's other board members and senior leaders at the time.
However, Cally Palmer, the national cancer director and chief executive of the Royal Marsden Foundation Trust, was not present at the meeting in June 2016.
NHS England released the minutes to HSJ following Ms Palmer's statement last week in which she denied being part of a "committee" which made the decision not to publish or take forward the 2015 report by Mike Stevens and nine other experts. HSJ asked for the minutes of the committee where the decision was taken.
Professor Stevens' report revealed concerns about the "fragmented" model of care serving south London and areas south of London, for children with cancer. Children needing emergency treatment are often transferred between the Royal Marsden and St George's Hospital because the Marsden does not have its own intensive care unit, and they must also go to other sites for neurosurgery.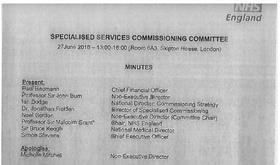 Last week HSJ revealed that concerns over the model of children's cancer care in south London – in which the Royal Marsden's Sutton site is the main and coordinating site – date back almost a decade.
The minutes (attached, below) seen by HSJ show the NHS England chief executive was present at the meeting held in Skipton House along with the then NHS England medical director Sir Bruce Keogh, now retired; then NHS England chair Sir Malcolm Grant, who has also now left; national director of commissioning strategy Ian Dodge; chief financial officer Paul Baumann, also now left; and director of specialised commissioning Jonathan Fielden, who has since resigned for unrelated reasons. They were all members of the committee, which Ms Palmer was not.
At item three on the agenda the minutes said: "Dr Jonathan Fielden raised the issue of children's cancer care in London, in particular the review undertaken in 2015, and the committee agreed that findings of the review should be considered as part of the wider cancer reform programme as set out by the independent cancer taskforce and articulated in Achieving World Class Cancer Outcomes."
It appears that this decision amounted, from NHSE's point of view, to not publishing or separately taking forward Professor Stevens' recommendations.
Mr Stevens is due to appear at the Commons health committee today. HSJ has learned Sir Paul Beresford, MP for Mole Valley in Surrey, has written to committee chair Sarah Wollaston asking her to raise the issue and saying HSJ's stories were "deeply alarming" and raised "serious questions about transparency and accountability which the NHS must be made to answer".
Former NHS England London medical director Andy Mitchell told HSJ last week that Professor Stevens' report should have been published but was "buried", citing a "pervasive influence" at the top of NHS England.
He described folding the issues into the national cancer taskforce as "inappropriate" and a move which would lack credibility with the profession.
Yesterday James Nicholson, a paediatric oncologist and former member of an NHS England clinical reference group told HSJ how clinicians had been pressured in a meeting last September to change child cancer standards by NHS England so that co-location of paediatric cancer services with an intensive care unit – something the Marsden's Sutton site cannot provide – was considered a "should" instead of a "must".
Meanwhile, Ashley Gamble, chief executive of the Children's Cancer and Leukaemia Group, a professional association for clinicians treating children with cancer, told HSJ the revelations and allegations of recent days were worrying.
He said: "As the professional body there is no doubt our colleagues at the Royal Marsden are delivering the best quality of care they can and have the safety of children at the forefront of their minds. For us the issue is the clinical advice not being listened to and allegations of that being covered up or brushed under the carpet.
"Our members have spent hours of their own time giving input into the service review and forming these recommendations which they think are the best and how treatment for children with cancer should be best delivered. For that expertise from clinicians on the frontline not being given the highest priority and respect it deserves is a concern for us."
He said it was important NHS England engaged with CCLG and confirmed it wanted the change on co-location reversed.
A doctor working in intensive care at St George's Hospital also newly contacted HSJ and told us: "I don't think the model is safe. It's not easy getting oncology views [from Marsden doctors] on patients once in our ITU, most teams visit once per day to see patients, but that is much harder when the team aren't on site."
A spokesman for NHS England reiterated that the Care Quality Commission had inspected the Marsden and concluded its services were safe.
He added: "The 2015 report acknowledged that there was no evidence to suggest that patient survival outcomes would be improved by moving to a single centre for London, not least because the two London centres were already amongst the largest in the UK."
Professor Stevens' report did make it clear evidence on survival was not always available due to numbers being too small to provide high statistical certainty. The report concluded the panel "nevertheless believes that service outcomes are also importantly represented by consideration of patient / parent experience and by evidence of fragmentation in the delivery of the care pathway."
NHS England said the report's opinions "were not supported by three quarters of NHS bodies (16/22) who disagreed with its recommended service closures."
This was based on a questionnaire which the 2015 report said did not include a reference to the other options nor did it specify PTCs being co-located with all necessary services. In addition, 86 per cent of organisations (18/21) agreed governance arrangements were inadequate and 94 per cent agreed there should be fewer shared care units.
NHS England said: "It was entirely reasonable to ask the independent cancer taskforce for a national view, and then to proceed to public consultation as is now happening. To try and downplay the fact that there were legitimate differences in clinical view on these services would be to suppress a debate which is rightly now being tested through consultation."
Simon Stevens at meeting which decided not to publish controversial cancer report
1

Currently reading

Simon Stevens at meeting which decided not to publish controversial cancer report

2