Distribution of £1.8bn fund described as "economic lunacy and grossly unfair" by Sir Peter Dixon
He warns that rules around STF encourage "dishonesty" and "bullying"
Sir Peter also criticises regulators for failing to provide strong leadership
The regime governing how additional funding is allocated to NHS trusts has been described as "economic lunacy and grossly unfair" by a widely respected former regulator and trust chair.
Sir Peter Dixon also warned that rules around the extra funding have encouraged "dishonesty" and "bullying", which he said is now "as bad as I've ever known".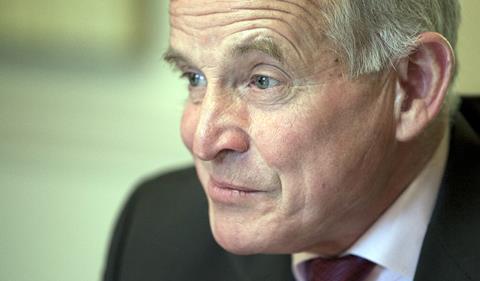 Sir Peter has been chair of multiple NHS trusts, including University College London Hospitals Foundation Trust for nine years, as well as former housing regulator the Housing Corporation. He is now chair of Imperial College Health Partners, but was speaking to HSJ in a personal capacity.
Recent analysis by HSJ showed how £1.8bn of sustainability and transformation funding was distributed in 2016-17, revealing wide disparities between the payments made to individual organisations.
The STF rules, which evolved over the financial year, were heavily geared towards incentivising trusts to meet their control totals, and resulted in clear winners and losers in terms of income received.
In some cases, trusts could secure extra payments via accounting adjustments or land sales, while many of those that missed out had to take out interest bearing loans.
Sir Peter said: "Giving more resource to asset-rich organisations while squeezing those already struggling is economic lunacy and grossly unfair. It also demotivates those with some of the hardest jobs in the system.
"If trusts are hitting their control totals because they've done prudent things and made genuine efficiencies then that's justified, but if you're suddenly pulling a rabbit out a hat in quarter four when your board reports throughout the year have suggested a big overspend, then it's usually dirty work at the crossroads."
After the first nine months of 2016-17, the year to date trust deficit stood at £886m, so if the run rate continued over the final three months, this would have resulted in a year-end deficit approaching £1.2bn.
But partly due to technical accounting adjustments, land sales and other one-off measures, the final reported position dropped to £791m.
Trusts were told last year that it was crucial to "give confidence" to the Treasury that their finances were recovering, which raised concern in some quarters that efforts would focus on short term measures.
Sir Peter said: "Everyone that I talk to says there's a lack of honesty in the system because if people are honest they get bullied. Therefore no one is doing the right things. I would contend there's no point in putting more money into the system until we get rid of that dishonesty in terms of the reporting and the bullying from the top.
"People I talk to say the bullying nature of the system is worse than ever. That is what I'm being told routinely. It means that good people are leaving and those staying in the jobs are not the best people.
"You've got to be much smarter in the way you set the targets so that they can't be gamed.
"At a macro level [the current system] produces the answer that the headlines demand. But the damage this does at a micro level is likely to be huge. It's not thoughtful regulation.
"The impact is [that trust leaders] will spend all their time worrying about finances rather than safe services for patients. If the mantra is all about hitting the control total or else, then that's all that will matter.
"The [style of] leadership we are seeing now is very reminiscent of the old Trust Development Authority… I think the good parts of Monitor have now been taken over by the new organisation [NHS Improvement] that's emerged."
Sir Peter said he did not believe the leadership from the NHS Improvement board was "strong enough" to prevent bullying or trusts gaming the system, although he added that "other people will take a different view."
Last year, HSJ revealed that an anonymous finance director had written to a parliamentary committee to warn that trusts were under pressure to "cook the books".
The rules around the STF regime were set out by NHSI and NHS England, but the regime is also overseen by the Department of Health and Treasury.
HSJ approached all the national bodies for comment but none have responded.
However, NHSI chief executive Jim Mackey used his speech at the NHS Confederation conference yesterday to urge people to "call out" and report bullying behaviour.
NHS Providers, which represents the trust sector, said: "Sir Peter Dixon is an experienced NHS provider chair and his comments reflect growing frustration at the way NHS provider finances are currently working.
"We all know why the £1.8bn sustainability and transformation fund and associated control totals were introduced – as a temporary measure to support trusts to eliminate the £2.4bn provider deficit that had been created.
"He's absolutely right to identify that we now need to move to a new long term regime that restores local autonomy and eliminates the distortions the current regime risks embedding."
In 2014, Sir Peter resigned as chair of Barking, Havering and Redbridge University Hospitals Trust in protest after accusing the TDA of prejudging the results of a Care Quality Commission inspection.
He currently chairs the Imperial College Health Partners academic health science network, and Diabetes UK.
Mark Orchard, president of the Healthcare Financial Management Association, said: "We understand why NHS Improvement made the policy decision to allocate funding via the STF, and these funds have had a positive impact on the financial health of recipient organisations.
"The bigger picture is that NHS organisations and their finance leaders have worked extremely hard to deliver the positions they have, faced with mounting financial pressures and challenging performance issues, underpinned by an ongoing imbalance between population demand for health and available funding."