The new chair of NHS Improvement has told MPs it is "obvious" the NHS is at "full stretch" and needs more money.
Baroness Dido Harding said she would be a "thorn in the side" of ministers in her new role.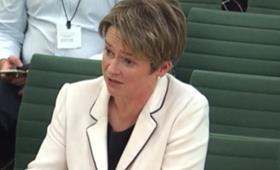 In a pre-appointment hearing this afternoon at the Commons health committee, Baroness Harding, a Conservative peer, said she would be prepared to challenge the government on health issues. She is also married to Conservative MP John Penrose.
The former TalkTalk chief executive was challenged by MPs over her political independence and her use of private healthcare.
She told MPs being chair of NHSI was not a "cushy job". She added: "I have no hesitation in challenging government of whatever party if I think it's the right to do for the organisation I am running. In terms of NHS Improvement itself, I don't view this as a political appointment and I don't think the government does either, not least because there are two Labour peers already on the board of NHSI both of whom were appointed by a Conservative secretary of state."
Baroness Harding said she had thought "quite hard" about how to manage conflicts of interest but resisted pressure to drop the Conservative whip in the House of Lords.
She said she would recuse herself of anything that directly affected her husband's constituency of Weston-Super-Mare and added: "I would expect not to vote on any health and social care matters in the [House of] Lords." She said she would think very carefully about matters she chose to speak on.
On NHS funding, Baroness Harding said it was "the most challenging issue for all of us. From the outside, in everything I have read and everyone I have spoken to says the system is at full stretch.
"I think it's very important that government ministers and Parliament hear the concerns on that tension and are not just blindly carrying on hoping everything's going to be all right when plainly there are some really difficult choices ahead of us."
She added: "I am not someone who is good at steady state, keeping quiet, playing quietly. If I think something needs to be said, I will say it. I will also maintain good relationships with everyone in that process.
"In telecoms, I've been a pretty big thorn in the side of ministers who didn't like what I was saying. But I've remained on good terms with them through that process. In that way, your point is heard better than if you just fall out."
There was a real need to "simplify the regional footprint" of NHS England and NHSI, Baroness Harding said, but she questioned whether a merger was the best way to achieve change.
She said it was clear she would need to work hard to improve the relationship between NHSI and NHS England but she warned against talk of a merger. She described the next chief executive of NHSI as needing to be a "superman… steeped in the service" with experience of running big organisations.
Committee chair Sarah Wollaston and former health minister Ben Bradshaw pressed Baroness Harding on her use of private healthcare, which she would refuse to give up while she was chair of NHSI.
Baroness Harding said she did not accept she should relinquish her private insurance. She said "a very large number of trusts do private work" and people should not "demonise" private healthcare.
Dr Wollaston said she believed the question was fair, adding she travelled second class on trains "not because the service is second class but it's about people having confidence you are using the same service as they are. It's a reasonable question."
The committee are debating Baroness Harding's appointment in private on Tuesday afternoon.