Birmingham council chief and STP lead hits out at NHS England's tendency to "sort the NHS out first"
Mark Rogers complains about use of sustainability funds for acute deficits
Calls for joined up national approach to STP and says engagement has been "flawed"
Says better care fund "has not delivered"
A prominent STP leader and city council chief executive has hit out at NHS England and NHS Improvement for their "sort out the NHS first" approach to the programme.
Birmingham City Council chief executive Mark Rogers is the lead for the Birmingham and Solihull sustainability and transformation plan footprint – one of just four council directors in that position.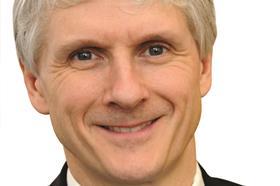 He singled out NHS England chief executive Simon Stevens and NHS Improvement chief Jim Mackey for saying STPs should focus on the financial gap in the health service, rather than that across both health and care.
In an exclusive interview with HSJ, he said: "We've been frustrated… NHS England, it presents itself correctly as inclusive but when push comes to shove, and everybody is financially stressed at the moment, the natural tendency of the centre is to say, 'well let's sort the NHS out first then'.
"It has been really tough trying to get that balance between health and care in [the STP] when Simon Stevens and his team are saying, well not just Simon Stevens, Jim Mackey too of course – the two big bits of architecture – are saying, 'quantify the health gaps, particularly the financial gap', and we are saying, 'quantify the health and care gap.'"
Birmingham became the first STP to publish its "full" plan submission on Monday, a move understood to be against advice from NHS England.
Mr Rogers said: "Adult social care is not going into crisis – it is in crisis. You can't just sort it out on its own, you have to look at how you transform all of the services but the tendency of the NHS can be to sort itself out first when the going is really tough.
"You'll have seen from the sustainability and transformation fund, the first year of funding was entirely put in to the acute sector to stabilise their finances. None of it, except in Greater Manchester, went into supporting transformation across the system. It has just been given to hospitals.
"It is almost counter-intuitive, here is social care slowly melting down, here is a health system equally distressed but you don't give both bits the money to create a better transformed system you just give hospitals the money to stabilise them."
He added: "For me, at national level, STPs came out of the NHS and I don't understand why the NHS and the Department of Health and the Department for Communities and Local Government don't have a joint STP national programme.
"Those three provide the national policy solutions that we need to bring health and care together." He said the DH, central NHS and DCLG should "have a single strategy to support health and care".
The council chief executive said the better care fund – under which some central funding and some NHS funding is pooled with the aim of developing integrated out of hospital services, including social care – "has not delivered". He suggested the fund should be "subsumed within the STP, which is a broader transformation programme".
Mr Rogers said his STP had found it difficult to engage with all the relevant people and organisations in the time allowed.
"[Engagement] been a real challenge," he said. "The whole STP process has been one of flawed engagement, the speed at which we've had to work, even though we've been doing this for a year now, has meant that engaging just within the system has been really quite challenging."
Despite his concerns, Mr Rogers said he was "more confident at the local level the partnership buys into" the importance of links between health and social care, and praised some involved in the STP for "absolutely understanding" the "synergy" between health and care.
NHS England has been approached for comment.
Third council publishes STP amid growing criticism of NHS England
1

2

Currently reading

Top council chief criticises Stevens and Mackey for 'NHS first' bias