Sir David Behan has announced he will step down as chief executive of the Care Quality Commission in the summer.
Sir David joined in 2012, at a time of huge controversy about the behaviour of and standards at the regulator. It has made substantial changes to how it works under his leadership, many in response to the Francis inquiry into events at Mid Staffordshire Foundation Trust.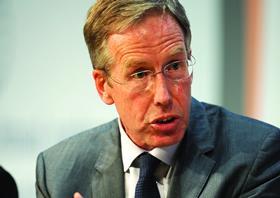 These included comprehensive inspection and ratings of NHS trusts, GP practices and other health and care providers.
The CQC is to begin recruitment for a successor imminently.
Sir David said in a statement: "After six years at CQC and over 40 years continuous employment in health and social care, I will be stepping down in the summer. I am announcing my departure now to allow Peter Wyman and the board sufficient time to appoint my successor and to allow for a smooth handover.
"It's been an immense privilege to serve the public by leading CQC, and I am incredibly proud of what we have achieved. We've inspected every hospital, adult social care provider and GP practice in the country – over 28,000 services and providers – and in the process developed a baseline on quality that is unique to anywhere in the world.
"Our annual State of Care publication is recognised as an authoritative overview of the quality of England's health and care services, and the National Audit Office recently recognised the progress we have made as an organisation. I now feel it's time to move on, to make a contribution in a different way and to allow someone else to lead the organisation to the next stage of its development."
Health and social care secretary Jeremy Hunt said: "David has been an exceptional leader, and we are lucky to have had him at the helm at such a transformational period in the regulator's history.
"He is highly respected across the sector for his wisdom, drive and fearless determination to put patients first. He deserves great credit for overhauling healthcare regulation in this country to put quality and safety at the heart of the ratings system. He should be incredibly proud of his record, and will be sorely missed."
CQC chair Peter Wyman said: "David has made an early announcement of his intention to step down in order to give us ample time to appoint his successor…
"David's unique combination of passion, vision and deep understanding of the health and care system - along with his personal commitment to putting people at the heart of everything we do - have led CQC to become a catalyst for change that improves the quality of people's care."
NHS Providers chair Dame Gill Morgan said on Twitter of the move: "We will miss him a lot!"
Martin Green, chief executive of Care England, which represents many social care providers, said in a statement: "Sir David has been at the helm of CQC, and a strong leader in this sector, for a significant amount of time. Long enough to put a stamp on the sector and lay the foundations for a system based on proportionate regulation. He is a very fair and principled man who will be missed by the sector."