Matt Hancock will head the Department of Health and Social Care after Jeremy Hunt - the longest serving health secretary in history - was moved to the Foreign Office. But who is Matt Hancock?
He was elected as an MP for West Suffolk in 2010 and has served as culture secretary since January this year, after 18 months as digital minister within the Department of Culture, Media and Sport. Mr Hunt had also made the switch to health from DCMS.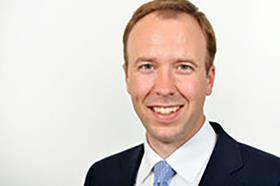 Mr Hancock does not appear an obvious choice for the role, having rarely discussed the NHS in parliament or in written statements. He voted with his party in supporting the Health and Social Care Act 2012, and to lift the private patient income cap.
However, his social media activity and his time as culture secretary suggests he is progressive with his views on issues such as mental health, homelessness, prison services and loneliness.
He also has a strong financial background, having worked as an economist for the Bank of England before becoming an economic advisor, and later chief of staff, to George Osborne.
His time as culture secretary saw him champion artificial intelligence, saying at the launch for the AI sector deal in April that the government was "committed to leading the world in the critical AI industry".
Last month, in another speech at the opening of a Cyber Innovation Centre, he said "there are huge opportunities [with AI] to make the impossible possible and save lives".
He has also used his own app – the much-ridiculed "Matt Hancock app" – to show support for improving prisoner education and regulating high street gambling machines.
Like the PM, he also appears to champion mental health support. He has used social media to support mental health awareness week and has raised funds for the military charity Combat Stress which works with veterans who have mental health needs.
He has also spoken of the need for social media platforms to do more to protect users from bullying and harassment online, writing in the Telegraph in June that they have a "duty of care to keep users safe".
Meanwhile, campaigners have wasted no time in highlighting his links to the Institute of Economic Affairs, a free market think tank which regularly promotes reform of the NHS, as well as the benefits of private healthcare and insurance based systems.
Before moving to the DCMS, he served in a number of ministerial roles under David Cameron, including as minister for skills and minister for business.
Like Mr Hunt and dozens of other politicians and establishment figures, he read philosophy, politics, and economics at Oxford University.
He also plays for the Lords & Commons Cricket team and was the first MP in modern times to win a horse race, at the Newmarket July Course in 2012. He is married with three young children.
New health secretary named as Hunt goes to foreign office
1

2

Currently reading

Who is Matt Hancock?

3