Patient died after being discharged with pencil in their body
Staff let patient leave despite knowing he had object inside him
Case to be heard by coroner next month
An inquest will be held after a hospital discharged a patient despite staff knowing he had a 17cm object inside him, which turned out to be a pencil that later killed him.
Staff at Portsmouth Hospitals Trust felt there was no evidence the object, which they did not know was a pencil at the time of treatment, would cause serious harm quickly, however the patient died 12 days after discharge.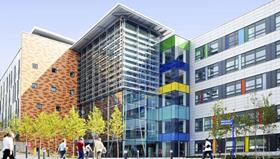 He presented at hospital with neurological problems and early tests showed likely metastatic brain cancer secondary to the lung.
The patient spent five days in hospital and received cancer care from a multidisciplinary team.
At some point during the stay it is believed the patient inserted the pencil into their body.
In its October board papers, the trust confirmed staff knew the patient had a "foreign object" inside them.
The trust told HSJ staff felt the object did not pose a serious risk to the patient's health and confirmed staff were unaware the object was a pencil.
The patient was subsequently discharged but died at home 12 days later when the pencil ruptured his diaphragm and right lung. It was only during the post-mortem examination that the object was revealed to be a pencil.
A trust spokeswoman: "There was no medical evidence that this object was causing acute illness nor could be predicted to do so imminently.
"The patient's advanced cancer was our priority and focus of care."
The trust said it could not identify the patient due to confidentiality, but HSJ understands it was a man in his 60s.
Asked if the organisation took action against any staff involved in the patient's care, the trust answered: "Not applicable."
The spokeswoman said the incident was not categorised as a never event because the incident "was not related to a retained object".
Lessons learned from the incident will be shared at a radiology governance meeting and across the organisation, board papers said.
The man's death will be the subject of a coroner's hearing in Portsmouth on 7 November.
In August, the trust's medical care was rated inadequate by the Care Quality Commission in a report described by NHS Improvement as "sobering".
The trust, which has one of the worst accident and emergency performances in the country, is revamping its leadership team following the appointment of Mark Cubbon as chief executive in August.
Source
Trust board papers; information provided to HSJ