Concerns about childhood obesity led to the introduction of the national child measurement programme in England two years ago. The programme is now starting to yield important insights.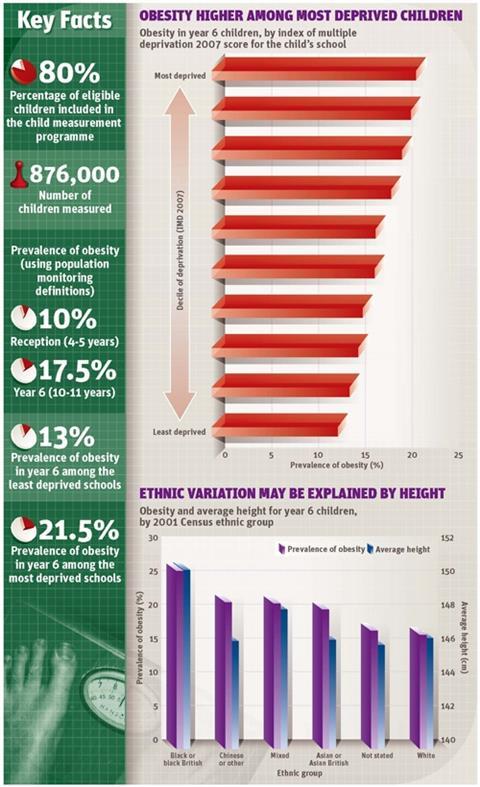 In 2006-07 over 876,000 children (80 per cent of those eligible) were measured across all primary care trusts. The programme's figures show that 10 per cent of four to five year-olds (reception class) and 17.5 per cent of 10 to 11-year-olds (year 6) are obese. Obesity levels are higher in boys than girls in both reception and year 6. However, girls seem less likely to participate in the programme than boys, so prevalence figures by sex should be treated with caution.
There is evidence of some selection bias. A relationship exists between survey participation rates and obesity: children who take part appear less likely to be obese or overweight than those who do not. This is particularly the case for year 6 children, where figures indicate that a 10 per cent increase in participation may be associated with a 1 per cent increase in measured prevalence of obesity. Across the country this effect could mean that prevalence estimates for year 6 underestimate the true level by 1-3 per cent.
The 2006-07 data shows a strong correlation between prevalence of obesity and deprivation (first chart). There are also higher levels of obesity in some ethnic groups, particularly in black or black British children (Caribbean, African or any other black background). These relationships are evident in reception classes but stronger in year 6.
Areas with the highest obesity prevalence tend to be deprived urban areas with a high proportion of the population from black or black British ethnic groups. However, children from black ethnic groups are on average taller than other ethnic groups, which may explain some of the variation (second chart). Furthermore, the British 1990 growth reference curves were based on a large sample of white British children measured from 1978-90 and therefore may not adequately reflect the growth patterns of all children.
The National Obesity Observatory is part of the Association of Public Health Observatories. It was established to provide a single point of contact for information on data, evidence and practice related to weight and its determinants. It will publish further analysis of national child measurement programme data this year. 
Headline Results, a report on the 2006-07 national child measurement programme, is available at www.ncmp.ic.nhs.uk