GPs are unlikely to give up their independence and fully integrate their services with other types of NHS provider "any time soon", the King's Fund chief executive Chris Ham has said.
Professor Ham was speaking to HSJ following the publication of the think tank's major study on the progress of new care models, looking at primary and acute care systems and multispecialty community providers.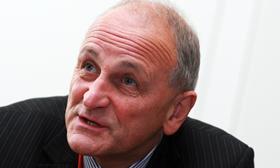 The report looked in detail at three PACS and three MCP sites. All three PACS were working towards full integration for acute, community, mental health and social care. However, none was including "core" GP services as part of the fully integrated PACS under a single budget – though all are planning to bring primary care into closer alignment with the rest of the service.
Professor Ham said that after 18 months of work on the vanguards, it was clear that GP funding streams would "always be a sticking point" in any attempts to create a full population health budget.
He said: "The realistic position is, it isn't going to happen any time soon. I don't think GPs will want to put their income at risk – I don't think there's any realistic prospect of that happening in the near future."
"What [GPs] would be happy with is getting as close as you can to a whole population budget by bringing together the other funding streams and aligning GMS or PMS [GP funding] alongside that, but being clear there's no membrane that allows resources to pass from one to the other."
Professor Ham said that although an integrated budget for everything except core primary care would not be a "total population budget", it would be "much closer to that than the contracting and funding streams we've had in the past".
Although GPs might theoretically be more comfortable with rolling GMS or PMS funding into an MCP budget, as that type of care model is led by primary care, Professor Ham said the same problem arose because GP owned entities were not considered capable of holding such a large budget.
"If it's not certain that an MCP contract will be held by a GP-led federation or super partnership, you might actually say a local foundation trust should be the contract holder. Then exactly the same concerns would arise as for a PACS," he said.
In an article on hsj.co.uk last week, Professor Ham wrote: "In reality, the ambitious plans under development to transform care for whole populations were always likely to take three to five years to show measurable progress. Now more than ever, national bodies need to hold their nerve in seeing through the innovations they have helped to stimulate."
He also said: "The work put into governance, organisational arrangements and relationship building, has slowed the process of moving from plans to implementation in some areas.
"This has served to fuel the frustration of national leaders who, understandably, are impatient to see the results of the investment made in the new care models programme at a time when NHS performance is under intense scrutiny."
A policy document on PACS published by NHS England last month said "it may take several years for a PACS to reach full maturity and effectiveness".
The document said: "Discussions with the vanguards have shown that, for now, many GP partnerships wish to retain the option of returning to their GMS or PMS arrangements in future, not least because of the perpetuity of these contracts."
What's new in care models: Is full integration impossible?
1

2

Currently reading

Chris Ham: GPs do not want full integration into PACS