There will be an effort to recruit around 2,000 GPs from overseas
A major increase from previous plan of 500
Government will need to fund any increase in NHS pay
NHS England will seek to recruit around 2,000 GPs from overseas, representing a huge expansion of previous efforts, HSJ can reveal.
Simon Stevens told HSJ that many more overseas recruits than the previously planned 500 would be needed if the NHS were to have a chance of meeting the government's targeted 5,000 GP expansion by 2020.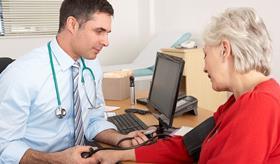 He also told HSJ that if the government were to increase NHS staff pay – as a number of senior politicians have suggested – it would need to provide additional funding for it. Doing so would also not solve wider NHS funding problems, the NHS England chief executive said.
NHS England's General Practice Forward View, published last year, promised to recruit 500 GPs from overseas.
Mr Stevens said: "Although there are some good signs of progress on increases in the GP training scheme, nevertheless there are real pressures around retirements…
"And so the conclusion we've come to is that in order to increase the likelihood of being able to have 5,000 more doctors in general practice, we are going to need… a significantly expanded industrial scale international recruitment programme. We intend to launch that in the autumn."
He said: "Rather than the current 500 or so GPs that are being targeted for international recruitment…it probably needs to be four times more than that, from international sources - [from the] rest of the EU and possibly New Zealand and Australia."
NHS England was working with professional bodies to put in place "national infrastructure" to source the GPs and match them to practices.
NHS England published a tender for a £30m framework to find companies that can help source 500 overseas GPs.
In relation to the NHS staff pay cap, Mr Stevens said: "At the point where a decision is made by the government to alter its stance on NHS pay, that obviously will have to be matched by funding support – the NHS doesn't have the ability to consume its own smoke [on pay growth].
"But that by itself is not a medium term solution to the funding term pressures on the NHS."
On his own view of whether the cap should be lifted, he said: "I think it's a mixed picture. There's a sense of fairness across the NHS that it would be a good thing to do. But of course ultimately these are judgements that government has to make."
There have been calls in government for an end to pay restraint since last month's general election, and health secretary Jeremy Hunt has hinted he may be lobbying for this.
Mr Stevens said he hoped that a joint plan for the future of the mental health workforce would be published by NHS England, Health Education England and NHS Improvement in coming weeks.
Stevens: NHS could create new national 'council' to share decision making
1

2

3

Currently reading

Exclusive: NHS to recruit 2,000 GPs from abroad

4