Despite a cash increase, the proportion of the total DH budget going to GP services fell by 1.2 percentage points, its accounts suggest
Spending on general practice made up just 5 per cent of the total
Came as NHS England promised to "increasing the proportion of investment going into general practice services"
GP spend grew 1.5 per cent - while overall spend grew by 3.4 per cent
General practice's share of the total Department of Health budget fell by 1.2 percentage points in 2015-16, the department's accounts suggest.
The accounts show spending on GP services was £7.8bn – 5 per cent of total expenditure.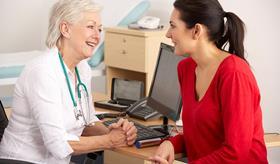 Spending on GP contract services was £7.6bn in 2014-15. It has therefore increased by 1.5 per cent in cash terms year on year - less than DH spend overall. In 2014-15 GP spend accounted for 6.2 per cent of the total.
The year on year increase in the DH's total revenue spend was 3.4 per cent.
The proportion of total DH spend going on what is described in the accounts as "G/PMS, APMS and PCTMS" – referring to the different types of GP contracts – has been falling as a proportion of the total DH spend since 2011-12, generally by around 0.1-0.2 percentage points each year. The fall in share is larger this year, the accounts indicate.
Even if the substantial increase in DH spending attributable to "provisions – change in discount rate" in 2015-16 is disregarded, GP spend amounts to 5.9 per cent, still a smaller proportion than 2014-15.
The fall comes despite government and senior officials repeatedly stating they want the share of spending on general practice to increase. NHS England's GP Forward View, published in April, said it was "committed to increasing the proportion of investment going into general practice services".
NHS Digital, formerly the Health and Social Care Information Centre, is due to publish a full analysis of GP spending later in the year, which is generally seen as the most accurate picture. For 2014-15, both the DH accounts and HSCIC analysis showed a small reduction in the proportion spent on general practice, but the drop indicated by the HSCIC was smaller.
British Medical Association GP committee deputy chair Richard Vautrey said: "These figures once again show that the rhetoric about investing in general practice doesn't match the reality. It is why we now see practices in crisis and unable to deal with rapidly rising workload which is ultimately putting patients at risk.
"Simon Stevens now acknowledges that general practice has suffered from a decade of under investment and repeatedly said that if general practice fails the NHS will fail. We must now see action not words and see a significant step change in investment into core practice funding."
The Department of Health has been approached for comment.
'Admin error' helped DH avoid parliamentary vote on budget
1

2

3

4

Currently reading

General practice's share of health spending falls again

5