Jeremy Hunt is expected to announce a new government backed indemnity scheme for GPs in England later today.
Speaking at the Royal College of GP's annual conference, the health secretary is expected to present plans to create a state funded clinical negligence indemnity scheme.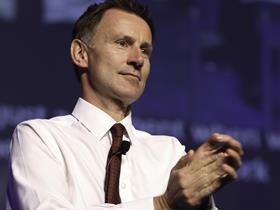 The announcement follows increasing pressure on GPs from rising indemnity fees and calls from the British Medical Association and the RCGP for a national solution to the problem.
In a statement, the Department of Health said the scheme would provide a "long term solution to the increasing fees, which are forcing doctors out of the profession".
No details have been given on when the scheme will be launched or how much funding will be allocated to it.
NHS England recently announced a second "winter indemnity" fund, worth £10m, for GPs working in out of hours services, from October to April.
Mr Hunt is also expected to announce a further round of "golden hello" grants worth £20,000 for 2018-19. The scheme has been available since April 2016 to attract trainee GPs to rural areas that struggle with recruitment.
To tackle the rising number of GPs who are retiring early, the DH and NHS England have launched a flexible working scheme for GPs nearing retirement.
As part of plans to recruit 2,000 GPs from overseas, Mr Hunt will say the new international office of NHS recruitment, due to be established this month, would create a "fast track" recruitment scheme for doctors outside the European economic area.
Mr Hunt's statement added: "Last month, the Care Quality Commission gave a glowing verdict on the state of general practice in England, but this should not distract us from the fact that the profession is under considerable pressure at the moment.
"By introducing targeted support for vulnerable areas and tackling head on critical issues such as higher indemnity fees and the recruitment and retention of more doctors, we can strengthen and secure general practice for the future.
"Our talented GP workforce is one of the reasons why we have the best healthcare system in the world, and our commitment of an additional £2.4bn a year for primary care by 2021, will ensure this continues."