At least 10 per cent of GP patients should be using digital services by 2017, says DH commissioned review
Baroness Lane-Fox outlines proposals to increase use of digital innovations in the NHS
NHS England to consider targets to get patients using online services in GP contracts
At least 10 per cent of patients in every GP practice should be booking appointments, ordering repeat prescriptions and accessing health records online by 2017, the Department of Health has been told.
A review into how to increase the use of digital innovations in the health service has also recommended that free wi-fi should be made available in every NHS building.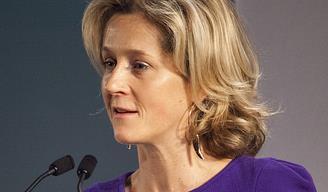 Earlier this year, health secretary Jeremy Hunt commissioned cross-bench peer Baroness Lane-Fox to develop the proposals, which will be presented to the National Information Board today.
Baroness Lane-Fox, co-founder of online travel company Lastminute.com, also said the NHS workforce needs a better understanding of digital technology to help support patients' needs.
In response to the recommendations, NHS England will look at including a target for doctors to get patients using online services as part of future GP contracts, a spokeswoman said.
Baroness Lane-Fox, who chairs a charity teaching digital skills, said patients and social care users, who are often the least likely to be online, should be included first in any new digital tools used across the NHS.
She said: "In the network age, universality, equity and quality must be at the very centre of how we build, adopt and scale new technologies in health. No one must be left behind."
While NHS England figures show that over 97 per cent of GP practices offer online appointment booking, repeat prescriptions and health record access, patient take-up of such services is still very low, with only 12 per cent of GP appointments nationally are booked online.
NHS England said that rolling out free wi-fi will allow hospital patients to monitor their conditions using apps and help them stay in contact with family and friends.
The national commissioning body added that putting the recommendations in place would reduce the administrative burden on doctors, nurses and care staff.
Mr Hunt said: "Creating an NHS which is digitally fit for purpose in the 21st century is a key priority for this government. New investment of £1bn in health technology announced in the autumn statement will help us to achieve this – making sure that patients and staff can access the services they need, helping to free up time and reduce costs."
In his HSJ Annual Lecture earlier this year, Mr Hunt said he wanted to make general practice "truly paperless by 2018".