GP practices may not have to move off their existing contracts
Six areas are expected to take up the new contract in April 2017
The new voluntary GP contract announced by the prime minister last year could be held by joint ventures set up by NHS organisations, Simon Stevens has said.
The NHS England chief executive also said it had not yet been decided whether it would be mandatory for practices covered by the new voluntary contract to move off their existing conventional GP contracts.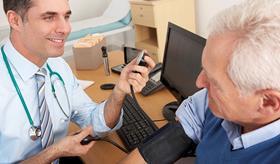 David Cameron announced the new contract at the Conservative Party conference in autumn last year. His statement at the time said: "The government has listened to GP leaders who say that the time has come for a new, voluntary contract option for general practice, integrated with community nurses and other health and care professionals, to provide more seamless, person centred care for patients."
Proposals for the contract, due to be introduced from April next year, have been developed as part of work on new care models by NHS England, vanguard sites and other localities with advanced plans for large scale primary care.
The General Practice Forward View, published on Thursday by the national commissioning body, describes it as an "MCP contract", referring to the multispecialty community provider new care model outlined in the Five Year Forward View.
It says NHS England will publish more details in the near future, and six areas are "working intensively with us to complete the design of the contract, with the aim of going live, on a voluntary basis, in April 2017". The six have not been named.
The document says it is anticipated there will be a "choice of different organisational forms" for MCPs, listing GP federations along with "a community interest company, LLP or joint venture with a local trust".
The new contract was expected to bring together provision of core general practice with wider health services in a single contract.
However, Mr Stevens told HSJ there was still a "live debate" about whether individual practices will be able to keep their existing GMS or PMS contracts, with an additional contract agreed in addition to these for new and extended services/arrangements; or whether it would require a wholesale move to the new contract.
Speaking about this debate he said: "This is a design choice we've got over whether to create an easy glide path or whether to actually say, 'this is quite a step change in what practice funding, organisation legal forms, [and] internal deployment of people looks like under this model.'"
In the latter case "it will be a smaller number of places but it will be a more intense redesign if you're in it", he said. Mr Stevens said it was a "live debate" and would be considered in a forthcoming consultation.
Stevens promises big increase in GP spending
1

2

Currently reading

New 'GP contract' may be open to NHS trust joint ventures

3