Sexual health is firmly on the national to-do list. NHS organisations are implementing the 2001 Sexual Health and HIV strategy.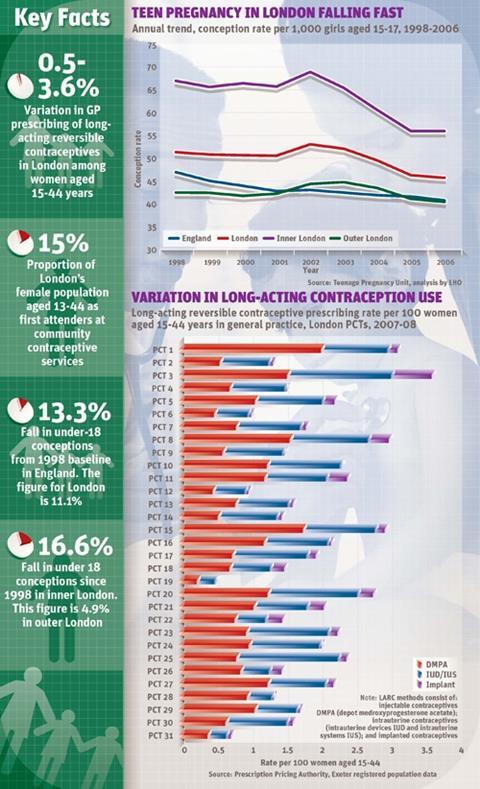 And it is a priority in the operating framework "vital signs" and High Quality Care for All.
One of the first steps towards world class commissioning of sexual health services is understanding current need and provision. In London, where sexual ill-health is a major challenge, the first ever pan-London sexual health needs assessment and service mapping has recently been completed for London's 31 primary care trusts. As a result, three companion reports and an interactive web tool have been produced by the London health observatory. These will allow commissioners to examine their local picture in the context of the overall evidence for the capital.
Take teenage pregnancy, where national rates are at their lowest level for over 20 years. In London, teenage pregnancy has also fallen, but the rate of decline has been noticeably faster in inner London (see first chart). Given the association between teen pregnancy and deprived communities, this is evidence that action focused where it is needed can reduce the gap.
Contraceptive and reproductive health
Challenges remain in keeping all areas of sexual health to the fore, such as contraceptive and reproductive health, which has had fairly low prominence. Recently, the DH allocated£26.8m to improve access to contraceptive services in England, including equitable access to long-acting reversible methods. The National Institute for Health and Clinical Evidence has made it clear these long-acting methods are more cost-effective than the combined oral contraceptive pill, and highlighted the need for referral if the methods are not provided by a contraceptive service provider.
The pan-London sexual health needs assessment was able, for the first time, to show the extent to which this NICE guidance is being put into practice. A comparison of long-acting reversible prescribing rates by GPs showed a sevenfold variation across London's PCTs (see second chart). This methodology can be used to analyse prescribing rates at practice level.
Sexual health commissioners in London can now use these resources to forge ahead and improve current services, thus moving sexual health firmly into the world class arena.