Professor Tim Briggs says NHS must "drag back" private sector work
More than 30 clinical projects to reduce unwarranted variation will report by December 2018
Professor Chris Ham calls Getting It Right First Time "a promising intervention"
Professor Tim Briggs has said the NHS must stop "leaking" £1.4bn to private providers to ensure its survival.
Professor Briggs, who is leading the Getting It Right First Time programme to reduce unwarranted variation in the NHS, said today the service must become more competitive by reducing unwarranted variation, improving efficiency and driving up care standards.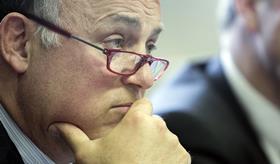 'We have to do things differently and we don't have a lot of time,' Tim Briggs said
He said: "£1.4bn of our money, taxpayers' money, which could be used in the NHS is being invested in 'any qualified provider'.
"We have to compete for that work and get it back to the NHS. That is the way we are going to be solvent.
"We have allowed money to leak away and we have to drag that back into the NHS to make it sustainable."
Professor Briggs, a leading consultant orthopaedic surgeon, was speaking at a King's Fund event in London to launch its report into GIRFT, which now covers more than 30 medical and surgical specialties.
Every trust is being provided with data to highlight areas of unwarranted variation, poor outcomes for patients and potential savings through better working practices and more efficient use of resources. The GIRFT team follow up initial visits to ensure trusts are achieving results.
Professor Briggs said 25 clinicians have been recruited to date to lead the various work streams and the GIRFT team had been expanded from five to 122.
Eleven projects examining surgical specialties are underway, with the report into general surgery due within six weeks and the remainder within a year.
Describing the general surgery report as "a gamechanger for the NHS", Professor Briggs said a thirty-fold difference in infection rates across the country had been uncovered, ranging from 0.2 to 6 per cent. Readmission rates after 30 days also varied between hospitals from 3 per cent to 27 per cent.
He said huge variation was also being uncovered by other GIRFT teams in litigation.
In obstetrics, there were more than 8,000 claims costing £5.3bn in the last five years, amounting to an average cost of £1,389 per live birth.
However, at the best performing trust, the litigation cost per live birth was £75 – compared to £6,980 at the worst performing trust.
The King's Fund report by Nick Timmins suggested GIRFT's success will be down to the team supporting clinicians and management by providing evidence on where efficiencies could be made and better practices introduced.
However, Professor Briggs said the next stage was implementing the necessary changes.
"We have to do things differently and we don't have a lot of time. We are going to have to stop asking people to do this. We are going to have to tell people we are going to reorganise services to fix this problem," he said.
He said GIRFT reports would "highlight what good looks like" and he had told Jeremy Hunt metrics would be produced for each specialty by December 2018.
"There is no doubt that if we can get everyone to good, clinical outcomes for patients will be so much better and complications and unwarranted variation will be squeezed out.
"The data trusts will be able to see will cover 90 per cent of their work. Trusts will be able to look at each other's data because, let's face, it no one likes to be in the bottom 25 per cent and I think we are going to see great change.
"This is the first time everything has been aligned. NHS Improvement, NHS England, the Care Quality Commission, politicians, clinicians are all aligned and driving this process. I think we now all see it as a solution," he added.
Professor Chris Ham, chief executive of the King's Fund, said GIRFT was "one of the most promising interventions" that could lead to changes in clinical practice to improve productivity.
He said: "There is a lot of potential to do more with what we have got. It shows what can be achieved when the NHS acts on the evidence."