Public Health England chief executive calls for blanket smoking ban on NHS grounds
Said only a few acute hospitals had achieved it so far
Duncan Selbie said it was an important action for the NHS in prevention
The chief executive of Public Health England has called for a blanket smoking ban on all hospital grounds to strengthen the NHS's role in preventing ill health.
Duncan Selbie told HSJ in an exclusive interview that he wanted "a tobacco free NHS" as well as "a sugary drink free NHS, an NHS that doesn't retail high sugary products".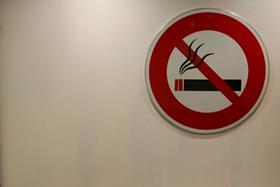 He said it would be a good way of taking action on the intention in sustainability and transformation plans to improve health and wellbeing via prevention.
Mr Selbie said the NHS needed to "implement at scale and consistency" a set of preventative interventions. "It's about implementing consistency at scale.
"If you take tobacco, the most obvious thing is more tobacco control. I would like to see every hospital tobacco free."
Mr Selbie praised the mental health sector, where some trusts have already introduced a blanket smoking ban across all their sites, but said the acute sector needed to catch up.
"The health service taking account of this in how it acts is really important - I would like to see every hospital tobacco free. I don't just been you can stand at the front door of the hospital, I mean tobacco free."
He added: "There are a small number of hospitals which have achieved that – the mental health hospitals have how the way which is often the way… But acute services haven't."
The National Institute for Health and Care and Excellence issued guidance in November 2013, saying the health service should ban smoking on hospital grounds. But while smoking is banned inside all buildings, many hospitals still allow patients and families to smoke in the grounds
His comments follow PHE issuing guidance on interventions that should be used widely. The advice covers:
drugs, tobacco and alcohol;
diet and obesity;
diabetes;
mental and sexual health;
dementia;
cardiovascular disease; and
health and work.
The comments follow a strong focus from NHS England on sugary food and drinks in the NHS in recent years, including this month launching a consultation on cutting the sales of sugary drinks on NHS sites.
It proposes levying a fee for any vendor of sugar-sweetened beverages on NHS premises, and suggests building the new rules into the standard provider contracts.
Exclusive: STPs 'made a good stab' on prevention, says public health chief
1

2

Currently reading

PHE chief: Smoking should be banned from all hospital sites

3