Worst April A&E performance on record, new data shows
Official statistics also show key cancer treatment standard missed for fifth year in a row
Performance on 62-day urgent cancer referral target the worst on record
The English NHS produced a record low performance against key treatment targets in April, official statistics have today revealed.
Data for April showed national accident and emergency performance against the 95 per cent target had fallen to 85.1 per cent – the lowest level on record and a decline from 88.6 per cent in April 2018.
The data also revealed the worst performance on record for the number of patients treated for cancer within two-months of an urgent GP referral.
National performance for type-one consultant-led A&E units was 77.2 per cent. Lancashire Teaching Hospitals Foundation Trust recorded the lowest proportion of patients seen within four hours, treating just 50.6 per cent within that time.
NHS England is currently reviewing the A&E target and pilots of new standards are due to start in June.
Chief economist at the Nuffield Trust Professor John Appleby said: "Today's figures show that this April was by far the worst on record for the NHS, just when we would expect performance to start improving. It must feel like a never ending winter for overstretched staff.
"The pressure behind this is reflected in an astonishing seven per cent increase in major A&E department attendances per day compared to April last year. Nearly 67,000 patients spent over four hours waiting on a trolley from a decision to admit to admission in April 2019, almost 40 per cent higher than the same time last year.
"Trusts couldn't be starting from a worse position as new proposed A&E targets start to be piloted this month. Patients will want to know when the end is in sight – currently that seems like a long way away."
NHS England said in a statement: "Despite being under continued pressure, NHS staff have once again successfully treated more patients within four hours in A&E over the past month, and have also significantly cut the number of long waits for routine care."
A key cancer waiting time was also missed for the fifth year in a row. In quarter four of 2018-19, the NHS treated 77.3 per cent of patients with an urgent cancer referral with 62 days, against a target of 85 per cent. The performance was the worst on record.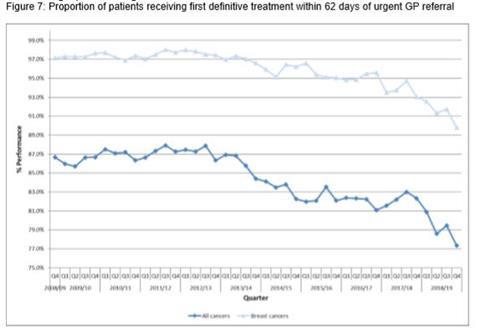 One think tank believes the poor cancer performance could be partly pinned on staff shortages and lack of investment in diagnostic equipment.
Becks Fisher, GP and policy fellow at the Health Foundation, said: "Despite repeated promises of improvement, NHS performance on cancer waiting times in 2018-19 is the worst since these targets were set. Improving cancer survival means diagnosing more cancers at an early stage, so the increasing numbers of patients being referred to rapid diagnostic pathways from GPs is good news.
"But cancer services aren't keeping pace with the rising demand, often resulting in anxious waits for patients. Last year more than 178,000 people waited longer than the recommended 14 days for a first appointment with a cancer specialist, and over 34,000 waited more than 62 days for their first treatment."
Dr Fisher added: "Without urgent action, promises of improved cancer care for patients in England will ring increasingly hollow."
'Zero tolerance' for A&E waits beyond six hours proposed by NHSE chief
1

2

Currently reading

A&E and cancer performance hit record lows