A&E performance dips to 85 per cent as a gruelling winter continues
Dip comes despite month on month fall in both attendees and admissions
Simon Stevens branded February hardest ever month as flu, norovirus and adverse weather hit
Performance against the four hour accident and emergency target dipped again in February to 85 per cent – its worst since records began – according to official data published this morning.
The overall performance figure set out in the NHS England data was only marginally lower than the 85.3 per cent recorded in January.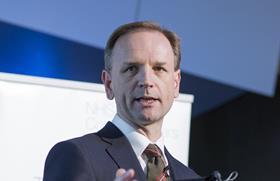 But it came despite a significant fall in emergency admissions from 525,897 to 476,800, suggesting a high level of acuity. Overall attendances also fell month on month from around 2 million to around 1.8 million attendees.
Performance in major "type one" A&E departments also dipped slightly to a new low from 76.9 per cent in January compared to 77.1 per cent in January 2018 and 81.2 per cent for the same month last year.
The figures follow NHS England chief executive Simon Stevens last week calling February the NHS's "most pressured month ever" with flu, norovirus and "the beast from the east" exacerbating existing stress in the system.
The national commissioning body also said last week that up to 4,000 hospital beds a week were still being taken up by flu sufferers, and on average over 950 beds were closed, up from fewer than 500 for the same period last year, because of diarrhoea and vomiting.
There was however a significant drop in the number of patients waiting 12 hours for a bed after a decision has been made to admit them, which fell from 1,043 in January to 371 in February.
Three trusts hit the 95 per cent target: North Tees and Hartlepool, Luton and Dunstable University Hospital, and Dorset County Hospital foundation trusts.
Thirty-three trusts recorded under 70 per cent type one performance. The lowest type one performers were and Hillingdon Hospitals (51 per cent) and Blackpool Teaching Hospitals (51 per cent) and Norfolk and Norwich University Hospitals (56 per cent).
Nuffield Trust chief executive Nigel Edwards said: "The main waiting times targets for cancer and planned treatment are being missed, and there is no sign of recovery.
"The British social attitudes survey we recently analysed with the King's Fund shows that the public are increasingly aware of this pressure, with dissatisfaction with the NHS rising seven percentage points to its highest level since 2007.
"Fundamentally, these pressures are driven by a lack of money and staff. If these are not addressed, it is inevitable that as difficult as February has been for NHS staff and patients, there will be worse to come."
NHS Improvement chief executive Ian Dalton said: "These figures show the continued and unprecedented pressure facing NHS services. Staff have coped with substantial growth in demand for emergency care during the month of February, alongside a spike in flu cases.
"In this difficult context, the fact that around 30,000 more patients were treated, admitted or discharged within four hours in February compared to the same month last year is a testament to enormous hard work by NHS staff."
A&E performance hits all time low after 'most pressured month ever'
1

Currently reading

A&E performance hits all time low after 'most pressured month ever'

2