Overall DTOCs decrease but those attributed to the NHS rose in second quarter
Less than half the 2,400 beds targeted to be freed up before winter achieved
NHS Providers says "small rise" due to problems in a few areas
The number of NHS bed days lost to delayed transfers of care increased in the second quarter of 2017-18 compared to the first, despite a national target to cut delayed discharges, analysis of official data reveals.
The NHS Providers analysis comes as NHS England confirmed last week that the system had delivered under half of the 2,400 beds it had targeted to free up by September in its DTOCs drive, underlining the significant capacity problems facing the system this winter.
NHS bed days lost to DTOCs rose 1 percentage point from 294,200 in the first three months of 2017-18 to 297,019 in the second quarter (see table).
The overall total lost days across both the NHS and social care improved by 1 percentage point because of improvements in social care and in lost days attributed both social care and the NHS.
Delayed discharges attributed to the NHS and social care in Q1 and Q2 2017-18
| | | | | |
| --- | --- | --- | --- | --- |
| Quarter | NHS | Social Care | Both | Total delayed days |
| Q1 2017-18 | 294,200 | 200,677 | 38,324 | 533,191 |
| Q2 2017-18 | 297,019 | 196,334 | 36,902 | 530,255 |
| Percentage point change Q1 to Q2 | +1 | -2 | -4 | -1 |
NHS Providers said for September, the delayed bed days made up 5 per cent of the NHS's overall bed base – which was short of the target of cutting the DTOC rate to 3.5 per cent by September set out following a funding boost in the spring budget.
NHS Providers said there had been an improvement month on month, with the figure coming down from 5.3 per cent in July. It attributed the increase in delayed days lost on the NHS side to problems in a small number of areas and an additional day in the second quarter.
Chief executive Chris Hopson said: "Overall, the NHS has been working hard to bring down its DTOCs and has done well across the system but a small number of trusts and their health economies are having significant difficulties.
"It was only a 1 percentage point rise and the fact there was an extra day in the second quarter was also part of the reason for the small increase."
Both NHS Providers and NHS England pointed out the dip must be viewed in the context of improvements in overall DTOCs performance after levels peaked last winter (see graph).
NHS England said in a statement that overall DTOCs were "now lower than a year ago, and – partly as a result – acute trusts reported lower bed occupancy in July to September this year than was the case at the same time last year".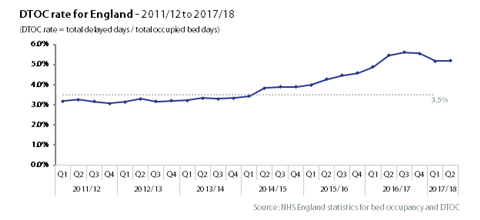 NHS England's November board paper on performance publicly showed for the first time how far short the system was of hitting its target to free up around 2,400 beds before winter by releasing beds filled with patients medically fit for discharge.
The paper said: "Next Steps for the Five Year Forward View set out an expectation that NHS and social care will collectively free up 2,000-3,000 beds, which will be delivered equally by the NHS and social care.
"Since February 2017, we have therefore been tracking the number of beds freed up as a result of DTOC reductions. From February to September 2017, there have been 1,035 beds freed up by reducing DTOCs, and DTOC delayed days are at their lowest since April 2016. Of these 1,035 beds freed up, 534 have been delivered by the NHS, social care has delivered 383 and the remaining have been jointly delivered."
NHS England's statement added: "[National urgency and emergency care director] Dame Pauline Philip is now in the process of allocating the additional £337m winter fund provided by the government on 22 November. It will partly be used to ensure that the originally planned net 2,500 hospital and community extra bed availability comes about over the peak winter period."