106 trusts report increase in E coli rates, with more than 10 per cent increases at 60
PHE data casts doubt over feasibility of government target to halve infections by 2020
Across England the infection rate has increased by 6.7 per cent in 12 months and by 12.7 per cent in two years
Almost 70 per cent of NHS trusts have seen a rise in E coli infections in the 12 months up to to January 2017, raising questions over their ability to meet the government's target to cut rates by 50 per cent in three years.
Data released by Public Health England this month shows that 106 trusts saw an increase in infection rates in 12 months, with 60 reporting E coli infections increased by over 10 per cent and 11 trusts had an increase over 30 per cent.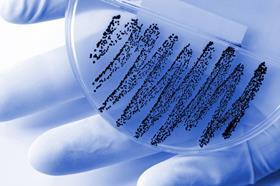 Overall, the numbers of E coli infections reported by NHS trusts jumped by 12.7 per cent in the two years prior to January, with a 6.7 per cent increase since February 2016 alone.
Of the 10 trusts with the highest increase in infections, Yeovil District Hospital Foundation Trust had a 79 per cent increase, with cases rising from 109 to 193 year on year. George Eliot Hospital Trusts saw a rise of 41 per cent. Four of the trusts that have seen the largest percentage increases still have relatively low numbers of reported infections at 25 or less (see table).
Forty-four trusts reduced E coli infections in the year up to January, with 11 cutting rates by more than 10 per cent.
The numbers from PHE do not differentiate between infections acquired in hospital and those patients had before admission. Reasons for the continual rise are varied, with concerns that driving down rates is complicated by the fact that E coli is harder to treat with antibiotics and patients present across primary and acute care, unlike with other types of infections. It is also thought that MRSA and C difficile infection targets have diverted trusts attention from E coli.
A spokesman for Yeovil said: "E coli infections categorised as acquired within the hospital account for just a small percentage of these overall rates; 12 and 11 cases [up to January 2016 and 2017 respectively]."
A spokesman for George Eliot also said the figures represented infections predominantly caught outside hospital. He said between April 2016 and February 2017, 17 people caught E coli in hospital.
The increase in infections has been recognised by the Department of Health as a risk to patient safety, and the latest figures reveal the scale of the challenge the DH has set for trusts to halve the rate of gram-negative bacteria by 2020. E coli infections represent 65 per cent of these infections and can cause a range of symptoms including urinary tract and surgical site infections, all of which can progress to life threatening sepsis.
From April, the DH has given trusts three years to cut gram-negative bacteria by 50 per cent. This will include driving down rates of E coli, Pseudomonas aeruginosa and Klebsiella. It will be the first time trusts need to collect data on the latter two infections.
Ruth May, NHS Improvement nursing director and newly appointed head of infection prevention control, said: "With a third of E coli bloodstream infections now resistant to antibiotics and those infected with a resistant strain being twice as likely to die, compared to those who are infected with a non-resistant strain, we are dedicated to finding ways to make lasting change.
"Working alongside PHE, NHS England, national partners and the DH we will support providers, staff and patients to play their part in helping to reduce the number of those infected and to reverse the trend of antibiotic resistance."
The government's plans to prevent gram-negative infections include a £45m quality premium to reward hospitals making the most progress in infection reduction, and displaying E coli rates on wards for the first time in the same way trusts are tasked with doing for MRSA and C difficile.
However, John Illingworth, improvement fellow at the Health Foundation, said: "The government's plans seem to focus primarily on hospitals, when we know that the majority of E coli cases are acquired in the community. So a more joined up, whole system approach will be needed in order to make significant progress, tackling causes in the community as well as in hospitals."
The number of people infected by E coli is almost three times as high as the next most prevalent infection. In 2015-16, there were 70.1 cases per 100,000 population. Across the same population size, C difficile recorded a rate of 26.0, MSSA a rate of 19.0, and MRSA 1.5. The rates of these infections has also been relatively stable over the last two years, with only MSSA seeing a slight rise.
The worst trusts for increases in reported E coli infections (February 2016-January 2017)
| Trust | Percentage change over 12 months | E coli infections reported Feb 2015-Jan 2016 | E coli infections reported Feb 2016-Jan 2017 |
| --- | --- | --- | --- |
| Birmingham Women's Hospital FT* | 137.50 | 8 | 19 |
| Royal National Orthopaedic Hospital Trust* | 133.33 | 3 | 7 |
| Yeovil District Hospital FT | 78.90 | 109 | 195 |
| Liverpool Womens FT* | 50.00 | 16 | 24 |
| Papworth Hospital FT* | 50.00 | 8 | 12 |
| George Eliot Hospital Trust | 40.95 | 105 | 148 |
| Northern Devon Healthcare Trust | 37.61 | 109 | 150 |
| Western Sussex Hospitals FT | 34.10 | 305 | 409 |
| South Tyneside FT | 33.98 | 103 | 138 |
| The Royal Cornwall Hospitals Trust | 33.49 | 215 | 287 |
| Princess Alexandra Hospital Trust | 31.50 | 127 | 167 |
| Salisbury FT | 29.47 | 95 | 123 |
| Hinchingbrooke Health Care Trust | 28.89 | 90 | 116 |
| Warrington and Halton Hospitals FT | 28.28 | 145 | 186 |
* The four trusts with low rates but high percentage increases included for accuracy but not counted in the top 10
The best trusts for decreases in reported E coli infections (February 2017-January 2017)
| Trust | Percentage change over 12 months | E coli infections reported Feb 2015-Jan 2016 | E coli infections reported Feb 2016-Jan 2017 |
| --- | --- | --- | --- |
| University Hospitals Bristol FT | -11.07 | 253 | 225 |
| Countess of Chester Hospital FT | -11.36 | 220 | 195 |
| United Lincolnshire Hospitals Trust | -12.17 | 419 | 368 |
| Wye Valley Trust | -12.71 | 118 | 103 |
| Royal Brompton and Harefield FT | -14.29 | 14 | 12 |
| Walsall Healthcare Trust | -16.44 | 146 | 122 |
| The Clatterbridge Cancer Centre FT | -20.00 | 10 | 8 |
| Alder Hey Children's FT | -29.17 | 24 | 17 |
| The Royal Marsden FT | -34.72 | 72 | 47 |
| Birmingham Children's Hospital FT | -39.39 | 33 | 20 |
| Royal Orthopaedic Hospital FT | -50.00 | 2 | 1 |
Analysis: Over 100 trusts report rise in E coli infections in a year
1

Currently reading

Analysis: Over 100 trusts report rise in E coli infections in a year

2