Twelve-hour 'trolley waits' up by 6,000 in March, the largest ever monthly rise
Attendances and admissions have increased, but by a smaller margin
The number of patients recorded as waiting longer than 12 hours in emergency departments increased by more than 6,000 in March – by far the largest monthly increase ever recorded.
A total of 22,506 patients waited more than 12 hours in EDs from 'decision to admit to admission', up from 16,404 in February.
This represents an increase of 37 per cent, compared to the 12 per cent rise in total emergency admissions.
The raw numbers represent the largest ever monthly increase in 12-hour 'trolley waits'. The previous largest increase in was in November 2021, when there was a rise of around 3,600.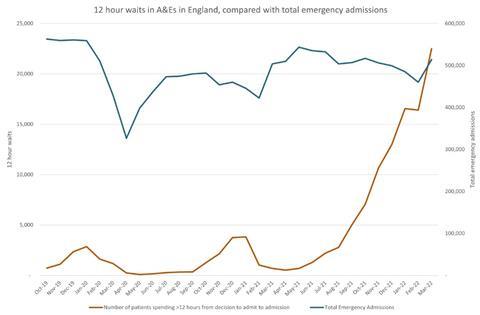 The figures reflect substantial demand pressures across the system, as well as difficulties faced by many trusts in discharging patients and freeing up ward beds – caused in part by lack of available social care in many areas.
There were 1.4 million ED attendances in March, up 18 per cent on February and the highest number since June last year.
The true scale of long waits in emergency departments is much higher than the official figures suggest, as the publicly reported measure does not reveal how many patients waited more than 12 hours from arrival in the department to admission.
NHS England has said it would widen the scope of the publicly reported figures, but has not yet confirmed when this data will be published.
However, there have been reports the 'arrival to admission' figures in March are around six times higher than the 'decision to admit to admission'.
On the four-hour standard, performance for main ED departments in March was 59 per cent, which was a record low.
A total of 23 trusts admitted, transferred or discharged fewer than half of their A&E patients within four hours last month.
Ambulance waits for heart attack and stroke hit nearly two hours
Hundreds of thousands of patients had to wait more than an hour for an emergency ambulance last month, with the worst performance times on record.
Category two ambulance responses – which includes suspected heart attacks and strokes – averaged 1:01 (hours and minutes) nationally with South Western Ambulance Service Foundation Trust averaging 1:54, and with 10 per cent of patients having to wait more than 4:32.
Two other ambulance service trusts – East Midlands and East of England – averaged more than an hour for category two responses. No trust hit the 18-minute target, but the North East managed 33:33 (see chart below).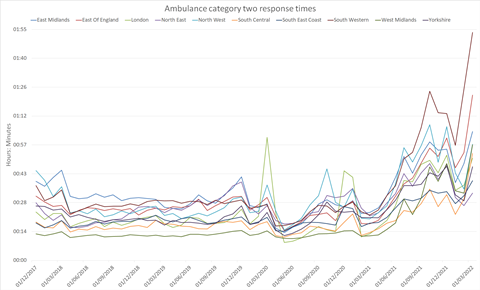 The most urgent cases – known as category one, which includes cardiac and respiratory arrests and catastrophic bleeding – are meant to be reached in seven minutes. The average response across England in March was 9:35 (minutes and seconds), but the South West area was close to twice the target at 13:07. In 10 per cent of cases, it took longer than 23:25. In contrast, London managed 7:13 – only just over the target.
Performance for both categories one and two was the worst recorded since the current targets were introduced in 2017-18.
HSJ has reported on the crisis in poor ambulance response times over the last few months. Weekly winter "sitrep" data published by NHS England – which was stopped this week – has shown a huge increase over recent months in the number of emergency departments, waiting to handover patients.
Today's figures also show emergency operations centres were under pressure in March, with very high call volumes, meaning there were more than 30,000 answered per day – 46 per cent more than in March 2021 and 11 per cent more than in March 2020.
Martin Flaherty, managing director of the Association of Ambulance Chief Executives, said some regions had seen up to a third of ambulance hours lost due to handover delays in March. AACE had been estimating the risk to patients on a daily basis but those risks were now "translating into actual harm."
"Ambulance staff and their managers are working extremely hard under unrelenting pressure and every possible effort is being made to prioritise those patients whose conditions are most serious. Sadly, given the loss of capacity associated with handover delays this is simply not always possible to achieve," he said,
Updated 16.45 with quotes from AACE
Source
NHS England performance data
Trusts with the most two-year elective breaches revealed
1

2

Currently reading

Biggest ever rise in 12-hour waits