Cancellations and pressure on waiting lists encourage trusts to "game" statistics, source tells HSJ
Overall waiting list nears 3.5 million patients
Waiting times expert estimates waiting time target was missed last October
This week's junior doctors' strike could exacerbate an already difficult situation for elective waiting times in the acute sector, a senior performance figure has told HSJ.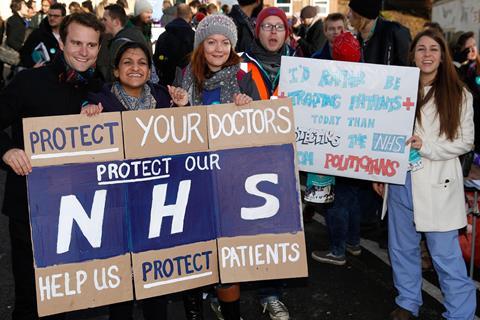 Industrial action could compound the pressurised situation for elective waiting times
NHS England estimated that approximately 3,400 procedures and outpatient appointments – 8 per cent of the total – were cancelled across the English NHS as more experienced medics covered for striking junior colleagues for 24 hours on Tuesday and Wednesday.
The senior source, who is close to hospital performance trends, said the industrial action could compound the fragile situation for elective waiting times, following a Christmas period that saw managers ordered to free up elective beds for an expected winter accident and emergency surge.
He described this as a "catastrophic decision" for elective waiting lists, adding that "organisations could find it immensely difficult to catch up again".
He said many trusts would be tempted to make "heroic assumptions" about what elective activity they could undertake, then overbook and have to cancel procedures.
He added that the pressure from winter, the junior doctors' strike and the overall growth of the waiting list was encouraging trusts to "game" the system, breaching national rules and damaging patient experience.
"If I was working in a trust now and I was in a hole I could link every failure back to the required reduction in elective work over the Christmas period", he said. "The English waiting list is far, far too big and needs to be reduced in its totality. We need a lot of time to do that. There's no way we can finesse our way over the line."
Elective performance is already under significant strain. NHS England estimated that 3.5 million people might have been waiting for a procedure as of October 2015, up from 3 million in October 2014.
Data put the total waiting list at 3.4 million in October, but did not include a number of large hospital trusts which have suspended reporting of waiting time data for various reasons.
Waiting times expert and HSJ contributor Rob Findlay estimates that when the performance of these trusts is included in the national figures the NHS breached the headline 18 weeks waiting time target in October. Ninety-two per cent of patients awaiting treatment should not waited more than 18 weeks.
The figures for the NHS's waiting time performance in November are due out today.
The effect of the industrial action on waiting times performance will not appear until March's release of figures.
Hospital chief executives told HSJ that more serious surgery was more likely to have been cancelled because of the strike as it requires a bigger clinical team. Orthopaedic procedures are thought to account for approximately half of cancellations.
NHS England has confirmed that trusts which can prove cancellations were due to strike action will be able to avoid fines from commissioners.
The national contract says an exemption to mandatory fines is allowed for force majeure events, including strikes.