The latest cancer data shows a significant decline in waiting times performance for north London boroughs.
The five clinical commissioning groups showing the steepest declines in performance on the 62 day referral to treatment time target over the past four years all sit within the UCLPartners catchment area covering north central and north east London.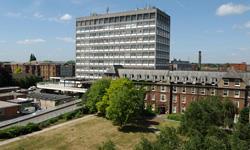 The target is for 85 per cent of patients to receive their first definitive treatment within 62 days. Falls of 10 percentage points or more between quarter three 2012-13 and quarter three 2015-16 were seen at Enfield, Haringey, Camden, Barnet and Havering clinical commissioning groups in this period.
In quarter three of 2013-14 all of these except Enfield were hitting the 85 per cent target, now none of them are.
South east London CCGs saw the second steepest decline in performance.
Transfers between providers are known to be a significant factor in delaying treatments.
A spokeswoman for NHS England London said: "London is above the national average for performance on 62 day waits but we know there is still more to do which is why providers and commissioners are putting a significant and renewed focus on achieving the target.
"With more people than ever before coming forward with suspected cancer – a 17 per cent increase in the last year in two week referrals – this does present challenges but there is considerable work underway in every trust in London to review and quantify the pressures affecting performance. This includes looking at workforce issues and diagnostics which will be a key part of the work of the [sustainability and transformation plans]."
London's NHS is working on streamlined pathways for colorectal and prostate cancers, which see high volumes of referrals.
London Cancer is the cancer network covering these north London boroughs, and is part of UCLPartners. Chief medical officer Professor Kathy Pritchard-Jones said: "The reasons for the under-performance relating to the 62-day waiting times for cancer are complex. Campaigns to raise awareness of the symptoms of cancer are resulting in more people than ever before coming forward with suspected cancer. This has resulted in a rapidly rising demand from GPs for assessment and a higher demand on diagnostic capacity. Additionally some patients do choose to take time to have their investigations.
"As part of the national cancer vanguard, London Cancer is continuing to work with cancer care providers across north east and north central London and west Essex to help unblock these pressures affecting performance. We are working with patients, hospitals, federated GP practices and community providers on ambitious whole pathway improvements so that GPs and patients will be able to have quicker, direct access to cancer diagnostics and advice close to home."
A spokesman for Camden CCG said: "We are aware the cancer waiting times at UCLH, as our main provider, are below target. Camden CCG is working with UCLH and regularly reviews action plans and recovery trajectories, this is fed back to our governing body and NHS England (London) as part of our assurance process . We will continue to both support and monitor the Trust as it works to meet standards and keep waiting times for cancer patients to a minimum."
Haringey CCG said responsibility rested with its main provider, North Middlesex University Hospital Trust. A spokesman for the trust said it had only missed the 85 per cent target in quarter three of 2015-16 and by less than one percentage point.
A spokeswoman for Barnet CCG said: "The commissioning and planning and performance directorates at Barnet CCG have worked closely with the [Royal Free London Foundation Trust] to improve cancer 62 day waiting time performance."
Director of commissioning at Haringey CCG Jill Shattock said: "Haringey CCG is committed to ensuring that Haringey residents have access to safe, well coordinated and high quality services.
"The trusts which deliver our cancer treatment services work extremely hard to meet the national target. We monitor their performance regularly and support them in various ways, when necessary, to improve service delivery.
"We will continue to work closely with them to ensure that our patients receive the most appropriate treatment at the right time."