More A&E and general medicine services rated badly than others
CQC chief calls for extra funding for adult social care citing direct "link" with pressure in A&E
David Behan says hospitals could meet A&E targets by addressing "flow" and by collaborating
The Care Quality Commission today released figures showing more than half of accident and emergency and general medicine services are inadequate or require improvement, and said it had particular concern about these services.
The regulator's State of Care report showed that as of July 2016, 9 per cent of all A&E services were rated inadequate – almost double the rate of trusts judged inadequate overall (5 per cent). A further 48 per cent of emergency departments require improvement. In addition, more than half (56 per cent) of all medical services also require improvement (52 per cent) or are inadequate (4 per cent).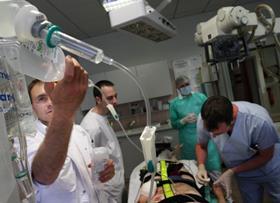 Speaking at the launch of the report, CQC chief executive David Behan said there was "clearly" a link between a funding crisis in adult social care and increases in A&E attendances, emergency admissions and delayed discharges. Mr Behan called for "urgent action" to be taken to mitigate the "impact [the adult social care market] was having on the secondary care system".
He warned that without additional funding and better collaboration the future "sustainability" of the social care sector was in jeopardy.
Asked whether NHS providers should be held to current performance targets if more social care funding was not forthcoming, Mr Behan said: "It isn't unfair [to do so] as we see trusts that are performing well dealing with these issues."
He added: "I don't think you can determine that the whole of the increases in A&E are down to adult social care not being able to meet need." He said that trusts which had improved over the past 12 months in general had shown good leadership, a culture of learning, and collaboration across the health and social care system.
He said that "over the past two years those better performing A&Es have got their flow sorted" by ensuring community healthcare services were keeping people out of hospital and supporting people after hospital discharge.
Mr Behan said an investment in social care "will make a contribution to ease pressures" within the NHS but did not also call for additional resources for the NHS in general.
The report, the CQC's annual update on quality across the services it inspects, also said some services were failing to improve despite clear information on how to do so, as highlighted by HSJ in August.
It also raised concerns about a falling number of nursing home beds and care home places. For the first time, the CQC has seen examples of adult social care providers handing back contracts to local authorities as they believed they were not able to deliver the care standards required within funding available.
CQC: A&E and general medicine are worst performing services
1

Currently reading

CQC: A&E and general medicine are worst performing services

2