CQC says Wexham Park Hospital's improvement under Frimley Health FT is "most impressive" it has seen
Rating upgraded from "inadequate" to "good"
Hospital was run by Heatherwood and Wexham Park Hospitals FT until October 2014
The Care Quality Commission has praised the "remarkable" improvement in care at Wexham Park Hospital as the "most impressive" turnaround it has seen since the start of its new inspection regime in 2013.
In May 2014 Wexham Park was rated "inadequate" by the CQC and placed in special measures. At the time the hospital was operated by Heatherwood and Wexham Park Hospitals Foundation Trust, but in October 2014 the trust was taken over by Frimley Health FT.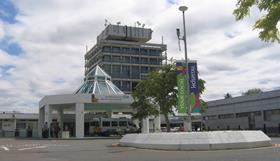 The CQC re-inspected Wexham Park a year after the acquisition, and in a report published today its rating has been upgraded from inadequate to "good".
In May 2014, three of the hospital's eight core services were "inadequate" and three were rated "requires improvement". The CQC now rates six of the services "good" and two "outstanding".
Chief inspector of hospitals Professor Sir Mike Richards said the progress had been "remarkable".
He said: "This is undoubtedly the most impressive example of improvement since our new approach to inspection started in September 2013.
"Two years ago we found a hospital with unsafe staffing levels, patients waiting too long for attention and treatment, too many cancelled operations and a workforce which was all too busy firefighting, without a clear vision about the organisation's direction.
"The new leadership have brought with them a set of values which has put excellent patient care and experience at the heart of the hospital. At this inspection we found a positive and ambitious workforce who are now prepared to recommend their trust as a place to work and to have treatment."
In the financial year to date, Frimley Health has hit all its waiting time targets. Despite more people accessing Wexham Park's accident and emergency service, since the takeover the hospital's A&E performance has improved from 93 per cent of patients seen within four hours to 95 per cent.
While the CQC praised the turnaround, it said there were still several areas where the hospital needed to make improvements, such as addressing nursing vacancies.
Frimley Health chief executive Andrew Morris told HSJ the inspection report was "stunning".
"On the Wexham site there are some fantastic staff – the previous arrangements just didn't pull out the best of them," he said.
CQC hails merger trust for 'most impressive' ever transformation
1

Currently reading

CQC hails merger trust for 'most impressive' ever transformation

2