CQC finds quality of providers in north Lincolnshire "broadly in line" with national average but health outcomes worse
"Financial sustainability" of Northern Lincolnshire and Goole FT and clinical recruitment identified as problems
Report is CQC's first "place based" assessment of care quality
The Care Quality Commission has published its first "place based" report, assessing the quality of health and social care services in North Lincolnshire.
The regulator said the quality of the region's providers was "broadly in line" with the rest of the country, and there was evidence care is coordinated.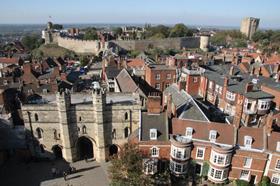 However it said North Lincolnshire faced challenges in relation to its workforce, and that its joint strategic plan could be "jeopardised" by a lack of clarity about roles.
Last year the CQC said it would begin looking at care quality across localities, to reflect the growing integration between different services and the fact that patients often interact with more than one provider.
In August it revealed that it would pilot this new approach in three areas:
north Lincolnshire;
Tameside, Greater Manchester; and
Salford, Greater Manchester.
The north Lincolnshire report, published last week, found that the quality of the region's providers was "broadly in line with the national picture", although average health outcomes for people in the area were worse than the England average.
The CQC said there was evidence of "good integration of care", such as low levels of delayed discharges from hospital. The emergency admission rate was also lower than the national average, and in the lower quartile of clinical commissioning groups in the north of England.
While North Lincolnshire Clinical Commissioning Group and North Lincolnshire Council were in a balanced financial position, the report said there were questions about the "financial sustainability" of Northern Lincolnshire and Goole Foundation Trust, which had applied for "distress funding" from the Department of Health.
Workforce was identified by the CQC as another risk, including a shortage of GPs in north Lincolnshire and clinical "recruitment challenges" because of a lack of national clinical centres in the region.
The CQC said Northern Lincolnshire and Goole was working with Hull and East Yorkshire Hospitals Trust to "network" services to support smaller specialties. However, it said there was "uncertainty" over future workforce requirements because of a "lack of clarity" about "the longer term regional vision and reconfigurations".
The report also said a lack of clarity over provider roles could "jeopardise" the delivery of the region's main strategic plan, Healthy Lives, Healthy Futures.