Commissioners and CSU say no patients were harmed after 300 CHC alerts went undetected for months
CSU fined for failing to deliver timely CHC support and continues to miss targets
Comes amid scrutiny of ballooning costs, delays and inconsistent assessments of CHC across the country
Alerts for hundreds of continuing healthcare patients went undetected because an IT system was left "unmanned" for months.
Three Birmingham and Solihull clinical commissioning groups have raised concerns about the poor performance of Arden and Greater East Midlands Commissioning Support Unit, which is responsible for assessing and managing hundreds of patients' access to CHC packages.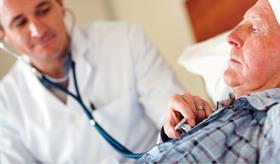 The CCGs are Birmingham CrossCity, Birmingham South Central and Solihull. In a report to their joint commissioning board meeting in September, commissioners were particularly concerned about "300 CHC referrals" sent to an email inbox that was "unmanned" since April.
"[The] CSU has reported 300 contacts that have not been dealt with in a timely manner due to an unmanned email inbox that was not overseen," the report said.
In a joint response, the CCGs and CSU said the board papers referred to an "internal alert" system, not an email account.
The alerts collected routine reviews of existing patients, not referrals, as described in the board papers. The error was uncovered on 12 July and fixed by 11 August.
The statement said: "While there was no detrimental impact on any patient, the backlog in these alerts was unacceptable. The CSU immediately informed the CCGs and undertook a full investigation. As a result, the CSU has amended its processes to ensure this cannot happen again."
The alerts that went undetected for months were discussed alongside broader concerns with the CHC contract, which has come under growing scrutiny because of delays to patients receiving care. The CSU has been issued with a performance notice and was fined twice in the second half of 2016-17 for its CHC performance.
CCG papers revealed the CSU has continued to fail to meet any of its key performance measures for CHC, "resulting in delays in packages of care being allocated and queries not being dealt with in a timely manner for Birmingham and Solihull patients".
Information provided to HSJ from the CCGs and CSU shows that only 25 per cent of existing patients are reviewed within three months, and only 30 per cent within a year. The target for both measures is 95 per cent.
The CSU performed better in first and urgent assessments of patients but still fell short of contractual targets.
The joint statement said "this is because it always prioritises new and urgent referrals".
There were also difficulties finding placements for patients, with demand rising by 16 per cent since the CSU took on the contract in April 2016, it said.
The statement added: "Arden and GEM CSU works closely with the CCGs to continue to make the significant improvements required, including the introduction of improved systems, processes and revised CHC staffing structures to ensure it has the skills and capacity to deliver the national framework for CHC."
Nationally, CHC has faced persistent criticism over delays and inconsistent assessments.
A National Audit Office report in July said patients were waiting too long for an assessment and decision making varied widely across the NHS.
In April, HSJ reported charities' concerns that an NHS England scheme to improve CHC was too focused on cutting spiralling costs. Birmingham and Solihull was one of the 10 regions in the scheme.
Source
Board papers; information provided to HSJ