Royal colleges and professional societies worked with GIRFT teams on appointments
Every trust running services in the 14 specialties will be visited by clinical leads
Work will begin before the end of this year
Leading consultants have been appointed to lead 14 national reviews aimed at improving efficiency and reducing unwarranted variation in NHS, HSJ can reveal.
The 18 clinical leads and two senior clinical advisers will visit every trust running services in their specialty as part of the Getting It Right First Time programme.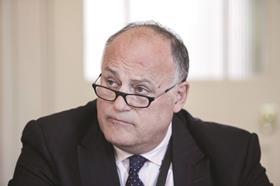 GIRFT worked with royal colleges and professional societies before appointing the leads and advisers, who will use trusts' data to highlight variation and outcomes.
The clinical leads will produce national reviews of each specialty – including general medicine, breast surgery and intensive and critical care – with work beginning before the end of the year.
HSJ reported earlier this week that the GIRFT programme will consider litigation as one of four "cross cutting" work streams, as well as 15 medical specialties, 15 surgical specialties and four clinical support services.
Professor Tim Briggs, who chairs GIRFT, said the £60m programme had attracted a "high calibre group of extremely experienced and enthusiastic clinical leads".
"The fact that each work stream is led by an expert in the speciality is a vital part of the GIRFT methodology because it means trust clinicians know they are dealing with people who really understand the challenges they face," he said.
Clifford Mann and Christopher Moulton have already been named as the clinicians leading the GIRFT review of emergency care.
John Abercrombie, a colorectal cancer and general surgery consultant based at Nottingham University Hospitals Trust, is expected to produce his report of general surgery this summer – the first GIRFT report since the initial orthopaedics review by Professor Briggs.
The clinical leads and advisors in the other 14 specialties are:
Clinical lead: Fiona MacNeill, consultant breast surgeon at Royal Marsden Foundation Trust and immediate past president of the Association of Breast Surgery.
Senior clinical adviser: Tracey Irvine, consultant oncoplastic breast surgeon at Royal Surrey County Hospital FT.
Acute and general medicine
Mike Jones, consultant acute physician and senior lecturer, University Hospital of North Durham and Durham University, and director of standards and director of training at the Royal College of Physicians of Edinburgh.
Joint clinical leads: Sarah Clarke, consultant cardiologist and clinical director for strategic development at Papworth Hospital, Cambridge, and president of the British Cardiovascular Society. Professor Simon Ray, consultant cardiologist at University Hospital of South Manchester, honorary professor of cardiology at Manchester University and president elect of the British Cardiovascular Society.
Martin Allen, consultant physician for respiratory services and lead in sleep services at University Hospitals of North Midlands Trust.
Adrian Hopper, consultant physician and deputy medical director of Guy's and St Thomas' FT.
Nick Levell, consultant dermatologist at Norfolk and Norwich University Hospitals FT and president of the British Association of Dermatologists.
Clinical lead: Geraint Fuller, consultant neurologist at Gloucestershire Hospitals FT.
Senior clinical adviser: Professor Adrian Williams, professor of neurology at University Hospitals Birmingham FT and chair of the NHS England neurosciences clinical reference group, the National Neurosciences Advisory Group and the West Midlands clinical senate.
Beverly Oates, consultant physician and gastroenterologist and clinical service lead for gastroenterology and endoscopy at Wirral University Teaching Hospital FT.
Diabetes and endocrinology
Joint clinical leads: Professor Gerry Rayman, consultant physician, Diabetes and Endocrine Centre, and the Diabetes Research Unit at Ipswich Hospitals Trust. Partha Kar, consultant in diabetes and endocrinology at Portsmouth Hospitals Trust.
Joint clinical leads: Graham Lipkin, consultant nephrologist at University Hospitals Birmingham FT and president elect of the Renal Association. William McKane, consultant nephrologist at Sheffield Teaching Hospitals FT and clinical director of the Sheffield Kidney Institute.
Anaesthetic and perioperative medicine
Joint clinical leads: Chris Snowden, consultant anaesthetist at Newcastle upon Tyne Hospitals FT and Royal College of Anaesthetists clinical lead (joint) for perioperative medicine. Mike Swart, consultant anaesthetist and critical care medicine at Torbay and South Devon FT and the RCA clinical lead (joint) for perioperative medicine.
Elizabeth Jones, immediate past dean of postgraduate dentistry for London.
Intensive and critical care
Anna Batchelor, consultant anaesthetist and intensivist at Newcastle upon Tyne Hospitals FT and chair of the Critical Care Leadership Forum.
Kath Halliday, clinical lead radiologist at Nottingham University Hospitals Trust.
Leads for the remaining GIRFT projects will be announced in the autumn.