Hospitals forced to enact emergency plans amid concerns over collection and disposal of clinical waste
National contingency plans hit by "significant" loss of incineration capacity during April
NHS chiefs instruct trusts not to buy further clinical waste services
More trusts report spiralling costs after switching to new provider
Clinical waste is piling up outside hospitals, HSJ can reveal, amid fallout from the crisis which exploded in the sector last year.
An NHS England document, leaked to HSJ, revealed "a number" of NHS organisations have "expressed concern" about the collection and disposal of clinical waste.
It comes after national emergency plans were triggered when the company at the centre of the stockpiling scandal which surfaced last year ceased trading.
As a result of the warnings, NHS Improvement has requested help from NHS England's emergency preparedness, resilience and response team, while the Department of Health and Social Care is "escalating the issue" with the Department for Environment, Food and Rural Affairs and the Environment Agency, the leaked document stated.
HSJ can also reveal:
A "significant" amount of clinical waste incineration capacity in the south of England has been lost temporarily after facilities closed for maintenance;
An attempt to export hundreds of tonnes of NHS waste to Holland was abandoned last year;
Individual trusts are being hit with unforeseen cost increases worth hundreds of thousands of pounds; and
In a highly unusual move, NHS Improvement has told all trusts not to buy new clinical waste services for a year until the "market has stabilised".
Contingency plans 'not a solution'
Between October and December last year, nearly 50 of 200-odd NHS trusts were forced to change their clinical waste management supplier after Healthcare Environmental Services was found to be stockpiling up to five times the levels of waste permitted at its sites.
Temporary containers, provided through a £1m DHSC rescue fund, were set up for affected trusts to store waste in as trusts terminated their contracts with HES, as advised by NHSI. Meanwhile, consultants from Mott Macdonald were brought in to help with the national contingency plans.
The majority of the trusts – most of them in Yorkshire and the North East – were then moved to a quickly negotiated contract with Mitie, held by Leeds Teaching Hospitals Trust on behalf of the NHS.
Mitie does not operate any waste facilities or vehicles, instead relying on subcontractors to carry out the work.
Last month, the company told HSJ it had cleared backlogs of waste at NHS sites and was "already operating at a normal level".
However, the NHS England document seen by HSJ – authored by Stephen Groves, the regulator's head of EPRR – revealed several trusts had felt it necessary to trigger their own contingency plans due to issues with the collection and disposal of clinical waste.
Trusts have been asked to fill out a spreadsheet of questions about the amount of waste on their site and their ability to function without waste collections taking place.
Last month Mr Groves outlined the situation and the mitigation plans to a meeting of more than 60 representatives of NHS trusts affected by the HES saga.
One source who attended the meeting said: "People were flabbergasted. Trusts are being told to keep trying to store waste.
"This contract was supposed to replace HES and we aren't even close to doing that. This isn't a solution either."
Mitie said it could not comment on NHS England's document and directed HSJ to its previous statement.
No more waste procurements, regulator tells trusts
Trusts hoping to leave their contract with Mitie in favour of arranging their own waste management provider were told not to by NHSI last week.
A letter from Simon Corben, NHSI's director of estates and facilities, leaked to HSJ, told trusts to "delay all reprocurement activities" until the market has "stabilised".
In his letter, Mr Corben said NHSI has "instigated a process of central support and oversight", due to the "criticality of the service" and the impact of HES ceasing to trade.
Mr Corben said the company's problems caused "significant operational issues for trusts". He added: "Our aim is to assist you to ensure that this is not repeated."
He said NHSI understood the proposed 12-month delay "will not be possible in all situations", and asked that trusts pressing ahead with reprocurements regardless to contact his team "before taking any steps to retender".
HSJ understands trusts will be asked to "discuss" their decision to reprocure with NHSI's estates team.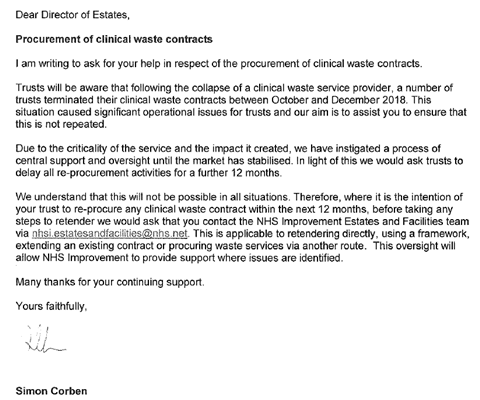 Costs spiral for trusts
Last month, HSJ reported several trusts' concerns about the increase in price for clinical waste services charged by Mitie. These included University Hospitals of Morecambe Bay Foundation Trust, Hull University Teaching Hospitals Trust, and Robert Jones and Agnes Hunt Orthopaedic Hospital FT.
In its latest board papers, York Teaching Hospital FT said it had spent £500,000 more on waste management services since switching to Mitie in October last year, with extra costs for 2019-20 estimated at nearly £750,000.
And board papers for Calderdale and Huddersfield FT revealed the trust had received invoices for an extra £200,000 which "considerably outweighed" the amount expected based on "information received on the price uplift".
The trust, which was on track for a £43m deficit in 2018-19, said the extra cost was thought to be the price of transporting its clinical waste to the South East.
Overall, the contract between the NHS and Mitie is estimated to triple the price charged by HES.
Loss of incineration capacity
The national contingency plans, which involved the Department for Transport granting dispensation for lorries to drive waste from Yorkshire trusts to the south coast for disposal, have been hit by a "significant" loss of incineration capacity at facilities in the south of England.
Correspondence from waste company Tradebe Healthcare to other companies, obtained by HSJ, revealed its incinerator in Fawley, near Southampton, is closed throughout April for "essential" maintenance work.
The closure also means Tradebe's facilities at Avonmouth and Rochester will not be able to take waste delivered by other companies, although a company spokeswoman said Tradebe would do so "where capacity permits".
It is common for waste companies to use each other's incineration facilities when necessary to dispose of waste.
One source within the waste sector said a "significant" amount of the south of England's incineration facilities would be offline for the next few weeks. They estimated only around 30 per cent of capacity would be available.
A DHSC spokeswoman confirmed there are "various planned and unplanned outages in incineration plants at the moment". Asked how much capacity this represented, she said the running and maintenance of incinerators was a "commercial issue" for their operators.
Untreated NHS clinical waste remains in warehouses across England
More than four months after HES stopped trading, the company's warehouses continue to be filled with untreated clinical waste from the NHS.
The government is unable to access HES' sites – situated in Normanton, Rainham, Nottingham, Newcastle, Bradford and Scotland – because owner Garry Pettigrew has not yet placed the company in administration.
This means the Environment Agency does not have the power to remove waste from the sites.
A spokesman for the regulator said the EA can only access the sites to remove waste if there's a risk of "serious pollution or harm to human health".
"The sites are not accessible to the general public, and EA officers are routinely inspecting all sites to check on whether they remain secure," the spokesman added.
The company is the subject of a criminal investigation as a result of breaching its permits, but the EA spokesman said he could not comment further "in case we prejudice any future legal proceedings".
It is not known how many tonnes of waste are stored across the warehouses.
HSJ understands an attempt was made to export 750 tonnes of pharmaceutical waste to the Netherlands last year, after a waste broker secured approval from the EA and Dutch authorities for the shipment.
However, the application was subsequently withdrawn because HES was unwilling to pay the costs.
The company has consistently argued its problems were caused by a lack of incineration capacity in the UK. This has been repeatedly denied by the government.
Source
Information obtained by HSJ