Sir David Dalton says A&E crisis is caused by delayed transfers of care and a new social care funding model is "urgently required"
Despite interest from new cabinet office team, Sir David says integrating health and social care funding will not solve crisis
Financial and care performance will be affected by social care crisis and pensioner benefits should be reconsidered to release new funding
Without "immediate" new social care funding patient care will be "compromised", Sir David Dalton has warned.
Sir David told HSJ that the current overcrowding concerns faced by hospital emergency departments are "not [caused by] the demand into the emergency department". He said: "Our inability to transfer patients safely to an alternative care setting… is causing the problem."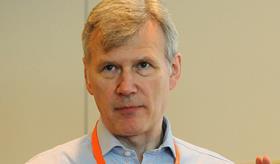 The highly respected trust chief executive, who leads Salford Royal Foundation Trust and Pennine Acute Hospitals Trust, said changes to the social care funding model are "urgently required" and the model being piloted in Manchester – of health services holding the social care budget – will not solve the crisis on its own. He said: "It makes decision making and funding flows easier but it does not replace the need for reforming and increasing social care funding."
His comments may raise concerns with the Cabinet Office team set up by Theresa May to review social care funding policy. It has visited Manchester, along with other regions, to examine the well developed links between health and social care as part of its efforts to resolve the social care crisis.
Sir David praised social care staff for "doing an amazing job" but said without extra funding the "system will start to silt up… care to patients will be compromised [and there will be] a consequential deterioration in performance… which will start to reveal itself in indicators of quality, access and financial performance."
Sir David said: "Additional funding is required immediately for those localities in greatest need. From 1 April more funding for all localities should be linked to reducing delayed transfers of care; the following year, funds could be redirected from the triple lock on pensions or from the winter fuel allowance and TV licenses, retaining these allowances for those in greatest need. These modifications can release money without increasing overall government spend – and if not these approaches, then suitable alternatives need to be found."
He added: "Over the course of this parliament we need political party consensus on new funding models or a mandate resulting from the general election."
Greater Manchester has emerged as one of the most innovative health systems in England, driven partly by the unique devolution deal for its health and social care services. The Greater Manchester Health and Social Care Partnership now oversees the region's NHS organisations, and is headed up by former Department of Health official Jon Rouse.